March 7 to 14, 2020, Jim McVicker
Jim McVicker
Retreat in Paradise
Painting in Plein Air and the Studio
Retreat in Paradise – Painting in Plein Air and the Studio with master painter Jim McVicker
March 7 – 14, 2020
(arrive Saturday, March 7, depart Saturday, March 14)

Jim McVicker, Plein Air Self Portrait - 18"x14", oil on canvas
---
Retreat in Paradise
Painting in Plein Air and the Studio
March 7 – 14, 2020
with master painter Jim McVicker
---
Jim McVicker, Out to Dry, (along the Horcones river by the foot bridge to the Casa), oil
An artists' retreat designed for you!
Jim McVicker, Beach day in front of the Casa, oil
Jim McVicker, Looking across the river, oil
Jim McVicker's reputation for painting what he sees, capturing light, and personal interpretation precede him. As an instructor, he is a natural: he is thorough, encouraging, and thoughtful. He spends copious amounts of quality time demonstrating techniques live on the canvas, within a variety of settings. As we travel to different exotic locations in and around the Casa, Jim visits and coaches each participant on-site sharing techniques and valuable feedback geared toward each painters needs and preferences.
Jim McVicker, View East from in front of the Casa, oil

Jim McVicker, Bob Francis Paints Divers Cove - 16"x20", oil on linen pane
"2/2/18 – Wonderful adventure at the Casa! Monica and Bob are great hosts! They go to a lot of trouble to make sure their guests are well taken care of! Day trip locations are great – loved painting at the different spots. Jim McVickers a great artist and very generous with his time and instruction. Food was delicious and you always had lots of colorful interactions with the locals. Thanks for the hospitality! – Ellen Howard
Jim McVicker, First morning demo from the Casa Studio
Jim will paint a small demo the first morning to show his process for starting a landscape: "How I work over the entire canvas in order to develop the painting as a unified whole, working on land, trees, water and sky so the painting grows with a cohesive feeling and not as separate parts. I block in the painting so the whole canvas is covered and feels right within the first half hour, and then move on to develop the painting. I'll work with the drawing of the landscape, with shapes, values, and color. I will describe my process, how I see and simplify what I see, with a focus on design and values which will give your work a completeness throughout the process. If students are interested I can show how I would work a second sitting on a painting in order to give it a more full and complete feeling. Fine tuning what I started the day before.
In the workshop, each day I would like each artist to paint at least one painting in the morning and one in the afternoon. I will walk around and work with each artist, one on one. I will be very available and open to any questions, and will help and/or demonstrate how I would solve any problems you might be having. I'm also willing to do demos each day if workshop attendees would like me to do so.
Visit with Jim at his studio in the 1 minute and 30 second video below as he personally invites you to join him at what will be a memorable painting experience at the Casa next January.
Jim McVicker, Sunrise on the river from in front of the Casa, oil
Join Jim as we paint on the beach in front of the Casa – (or in the open air Casa studio), with the fishing boats, exotic birds, waves, river, village and mountains all around us. Experience the gorgeous rock formations of the Mexican Pacific coast as we take a boat trip, (with opportunity of seeing whales, dolphin, tortoise and mantas) and then onto sketch and picnic at a beautiful beach. Spend the day painting incredible flora and vistas as we make the hacienda at the award winning Puerto Vallarta Botanical Gardens our studio where they serve us a delicious lunch. Step back in time as we spend the day painting in and around the zocalo of the quaint  mountain town of El Tuito, stopping only to have a sumptuous lunch in the patio garden of a hacienda style restaurant off the town square. This and more when you join Jim McVicker for Plein Air Painting in Paradise at Casa de los Artistas.
Watch this amazing video below –
"Jim McVicker, A Way of Seeing" – and be inspired…
See the bottom of this page for Jims' suggested supply list.
This special all inclusive week features, (click to see full details): private accommodations, with private bath and balcony, (no extra charge for a single), a number of cultural excursions such as a day of painting and fabulous lunch at the award wining, exotic Puerto Vallarta Botanical Gardens, boat trip (with opportunities for group snorkeling), hiking the coastal paths, a trip into the mountains painting at a traditional Mexican town with a wonderful lunch at a Hacienda, an afternoon and evening of gallery walk and tour exploring Puerto Vallarta, three delicious meals each day, drinks, alone-time by the beach, the social time with fellow artists and instructors and more!
Jim McVicker, Demo at the Puerto Vallarta Botanical Gardens, oil
Jim McVicker, Demo in El Tuito, oil
Take the time to explore the depths of your creativity in an atmosphere of joyful camaraderie, while enjoying fabulous cuisine and unique cultural adventures. Come and participate in this enjoyable, relaxing and educational workshop, Artist Robert Masla and his wife Monica Levine, will be your hosts in the unique tropical environment of their home and studio, Casa de los Artistas, in the tropical fishing village of Boca de Tomatlan, Mexico. Here inspiration abounds with tropical flora and fauna and all the beauty the sun, surf and sea have to offer.
Register early to take advantage of these special offers: Register and Pay in full by October 31 and recieve $100. off!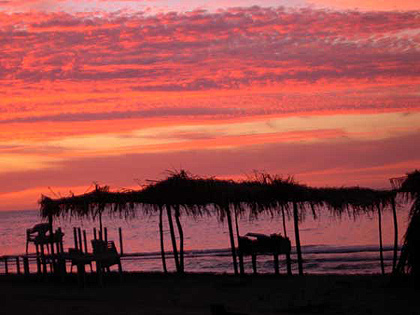 Palapa Sunset -on the beach infront of the Casa
More than an Art Workshop, More than a Vacation
– An Extraordinary Cultural Experience
"Casa de los Artistas!
Come for the Art, Leave with a Richer Heart!"
– Susan Ornelas, participant in 2018 McVicker workshop
---


Come home to the Casa

Casa de los Artistas

Where Art Lives!

"Outstanding! Bob and Monica spare no energy to make sure that every guest is well entertained and cared for. The overall setting was incredible, the Casa and studio space was perfect and the food was beyond compare. It's a truly unique experience. It touches the very soul of the Artist and provides endless inspiration." – Sterling Edwards, renowned watercolor artist and workshop instructor
Take a break from the ordinary, come and enjoy the tropical lifestyle on Mexican time. Jump-start your intuition as you recharge your creative batteries in this inspirational village, where time seems to stand still.  Your workshop vacation at Casa de los Artistas is different from anything you have experienced, (read the statements of past Casa participants in our "Testimonials"). But that's not all, make sure you bring your camera, journal and sketchbook, as there will be numerous cultural excursions as well.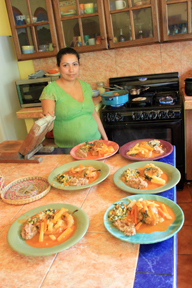 A special treat is the opportunity for a cooking class with the wonderful Casa chef Ruby. Learn how to prepare authentic and delicious Mexican cuisine; from a variety of salsa's, to a main entree and desert. Then enjoy the results with new friends in a relaxed and fun environment.
Watch (and participate) as the simple authentic Mexican village life unfolds around you. This quaint fishing village unspoiled by tourists, is a rare treat off the beaten path. Words don't actually do justice to the wonderful adventure in store for each participant. Your all inclusive week long Workshop/Vacation is just that – a workshop that is structured so you don't have to worry about details, but not too rigid – loose enough to enjoy yourself, relax and experience a vacation from the typical.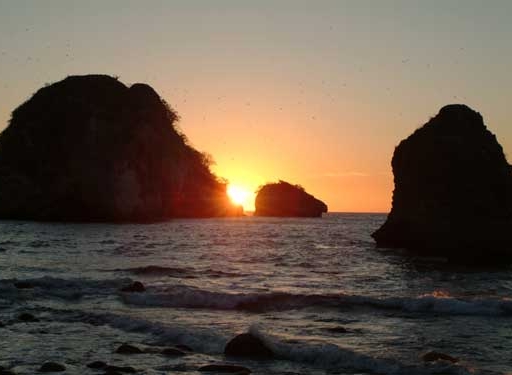 Absolute beginners as well as more experienced and professionals are encouraged to participate, as well as non participant guests. All activities at the Casa are optional, this is your workshop vacation to enjoy as you like.
---
Jim' Suggested Supply List:
Oil paints: This is a list of the paints I use. Students may use whatever colors they they have currently on their palette or some or all of the colors I use listed below. I use mostly Windsor Newton and Rembrandt paints, Titanium White, Cadmium Yellow Lemon, Cadmium Yellow or Cad Yellow Light, Naples Yellow, Yellow Ocher, Cadmium Red Light, Alizarin Crimson, Cerulean Blue, Cobalt Blue, Ultramarine Blue, Transparent Oxide Red, Kings Blue by Rembrandt Paints and Cobalt Violet by Rembrandt paints.
Medium, I use Walnut Oil Alkyd Medium but Gamblin Galkyd or Liquin is fine. Also odorless mineral spirits such as Turpenoid or Gamsol.
Note: Since you are traveling by air, you cannot bring mineral spirits, the Casa will supply a thinner and safflower oil for cleaning brushes, etc.
Brushes, I use Flats or filberts sizes #4, #6, #8, and #10 also a small round #4 or #6
Canvas, paper or panels 9×12 to 16×20
16×20 might be a bit large to travel with. I will have panels 9×12, 11×14 and 12×16
Join Jim McVicker for a Retreat in Paradise
Painting in Plein Air and the Studio
March 7 – 14, 2020
---
Please call us with questions (413) 625-8382
SEMINAR IS LIMITED !
REGISTER NOW TO RESERVE YOUR PLACE!
BOOK YOUR FLIGHT EARLY
You can reserve your place with a $500. credit card deposit, (no surcharge) or pay in full (surcharge applies)