Casa T-shirt in Black
A very limited supply of Casa T shirts, silkscreened on 100% cotton shirts, are available for purchase.
Colors : Black | Sizes: Small, Medium, Large, XLarge
Cost: $15. + $3. shipping
Call or email us to see if we have your size in stock. please allow 4 to 6 weeks for delivery.
---
Giclee print on watercolor paper of an original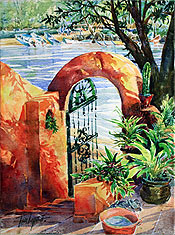 Lynch watercolor on canvas that Tom did of the Casa entrance/patio, (the original hangs in the Casa living room)
Print size approx. 16″ x 12″
Price: $75. + $5. shipping
Thanks Tom Lynch, Norm and Flaye Stahl for making this, and so much more, possible!
---
Giclee print on watercolor paper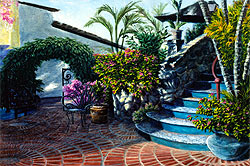 Giclee print on watercolor paper, signed by Masla, of an original oil & alkyd on paper that Bob did of Casa Andreas, the apartments he and Monica used to stay at before building the Casa
Print size approx. 16″ x 12″
Price: $75. + $5. shipping
---