Lian Zhen

Lian Quan Zhen started sketching and painting in his childhood and continued as a hobby while practicing medicine as a family physician in Canton Province, China. After immigrating to the U.S. in 1985, he obtained a Bachelor of Arts Degree from the University of California at Berkeley in 1992 and a Master of Architecture Degree from MIT in 1996. He has had many shows in the U.S., Hong Kong and China and has developed an international following. His paintings hang in numerous institutional and private collections, including the MIT Museum which has collected 14 of his paintings.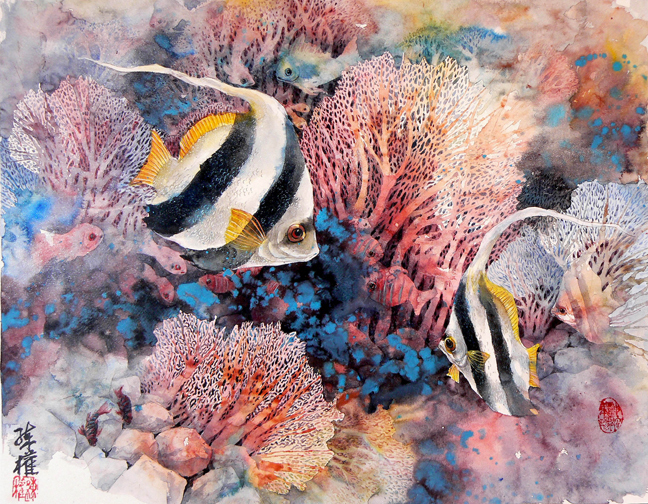 Lian Zhen, "Butterfly Fish", Chinese Painting, half Detail, half Spontaneous style, 16″ x 20″
His art teaching credentials include the University of California at Berkeley where he taught watercolor outdoor sketching for 8 years; watercolor and Chinese painting workshops nationwide through out the U.S. as well as in Europe, Canada, Mexico, Bahamas, China, South Africa and Australia. Also, Lian has been an invited juror for California, Colorado, New Mexico, Georgia, Arizona and Kentucky Watercolor Societies' exhibitions and other local shows. His paintings have been featured in magazines such as Watercolor 94 Spring, Splash4, Collectors (Hong Kong) and books of Landscape on Watercolor (UK), Finding Your Visual Voice and Painter's Quick Reference books by North Light Books: Flowers and Blooms, Dogs and Cats, Birds and Butterflies, Landscapes and Drawing and Painting Animals – the Essential Guide.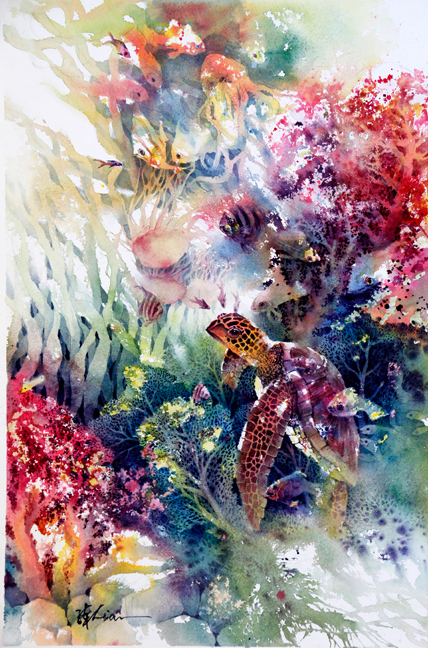 Lian Zhen – "Turtle", watercolor
Lian is one of the most popular authors of North Light Books. Four of his books published by North Light Books have been distributed internationally. They are: The Chinese Painting Techniques for Exquisite Watercolor, published in October of 2000; the Chinese Watercolor Techniques – Painting Animals, published in December of 2004, with demos on video tapes and DVDs made by Teaching Arts in UK; Chinese Watercolor Techniques for Exquisite Flowers published in 2009; Chinese Landscape Techniques for Watercolor in September 2013. They were main selections for North Light Book Club members. North Light Books has recently printed a coffee table book with a collection of Lian's paintings, one of two painters chosen amongst the publisher's artists.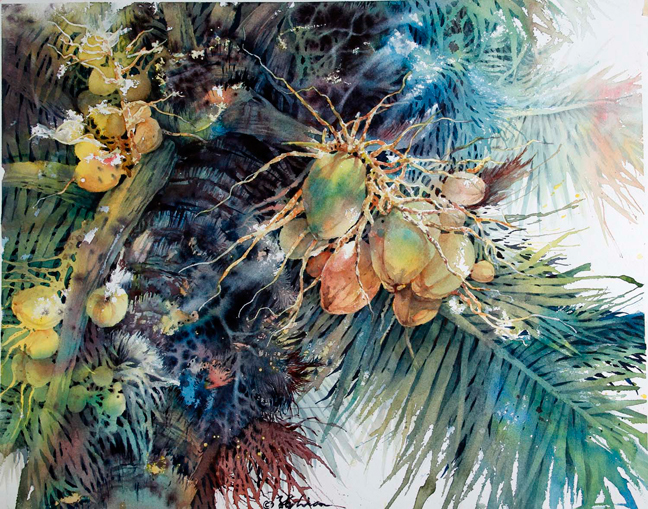 Lian Zhen, "Coconut Palm", watercolor
Lian Quan Zhen is a sought-after watercolor and Chinese painting artist and teacher throughout the United States and abroad, we are honored and excited to have him join the roster of esteemed artists facilitating workshops at the Casa.
---
January 15 – 22, 2022
Watercolor Painting – Color Pouring and Blending
with Master Watercolor Artist Lian Quan Zhen
-For beginners to advanced artists-
Click to see details of this Workshop