Tom Lynch
Join Tom Lynch when he returns to the Casa in,  2024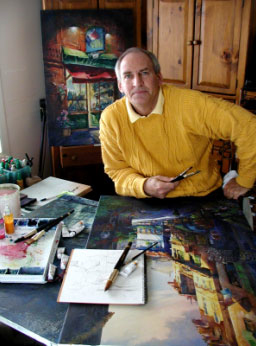 Tom Lynch is an internationally renown artist and workshop instructor and has been referred to as one of the nation's premier watercolorists. He brings to his workshops over 35 years of experience, having hosted several award winning PBS TV Art Series, he is the author of seven books, and was recently listed as one of the top 20 teachers in the nation by American Artist Magazine. He is represented by some of the nations leading museums and art galleries. He has been the spokesperson for the entire National Art Materials Trade Association, and continues to be the international spokesperson for many leading art material manufacturers. Tom is currently featured on the new cable TV channel Visual Arts Network, and in 2007 he became the CMO and featured artist for Art Academy Live (the leading on-line education source).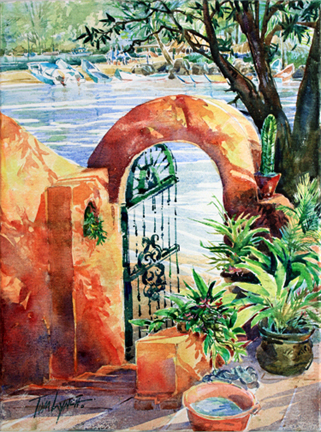 "Casa de Los Artistas", painted on location at the Casa patio entrance- Watercolor , Tom Lynch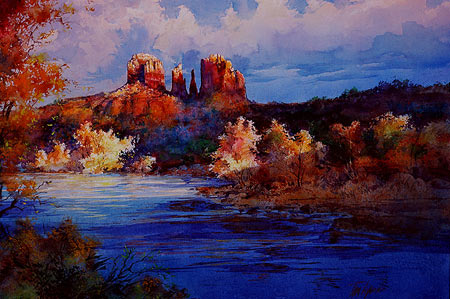 "Lavender Skies", AZ – Watercolor , Tom Lynch
Tom is a natural teacher who is especially intuitive in developing the student's own individual needs. Students from all over the world have attended his successful workshops and acclaimed them with high regard. He has mentored many who are now accomplished professionals. When Tom speaks, he talks openly and candidly. His paintings have that same intensity, expression, and direct appeal. Tom's vast list of accomplishments, credits and awards are listed in "Who's Who in American Art".
 Tom does a plein air sketch in the Mt. town of El Tuito as he demos a sketch and wash pencil
---
Watercolor Secrets Revealed
A unique workshop with Tom Lynch
– to be announced for 2024
---
To learn more about Tom Lynch, visit the link below