Casa, Studio South
We are located where the Horcones river meets the Boca bay, on the south side of the river in the charming fishing village of Boca de Tomatlan, often called Boca. Boca is located 10 miles south of Puerto Vallarta on Mexico's gorgeous Pacific Coast, (see the maps). Casa de los Artistas and the "Sisters Apts." are built with the jungle and mountains behind them and the river and ocean at their front door. The open air studio on the top floor is approximately 1,000 +sq. ft. with panoramic vistas of the Boca, river and bay.
Puerto Vallarta/ Boca de Tomatlan is tropical, located on the same parallel as the Hawaiian Islands The temperature averages 28 degrees C. 82 degrees F. in the fall, winter, and spring to the high 80's and 90's F. in the summer, with an average of 300 sunny days a year. The rainy season is from late July or August to mid to late October. Being right on the ocean with the mountains behind us, in the winter months, the mornings and evenings can be quite cool, so be sure to bring a warm sweatshirt, sweater or light jacket.
Physical ability to climb stairs, (the studio is on the 3rd floor of the Casa), and walk uneven terrain, (cobblestone streets, and paths) is a must.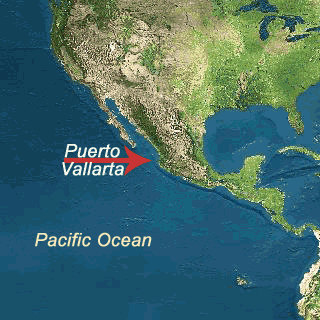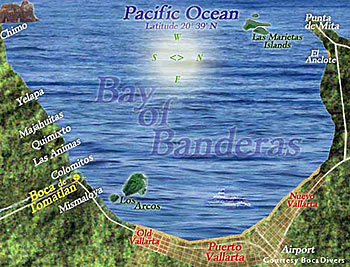 Puerto Vallarta in relation to Mexico and Boca de Tomatlan on the Bay of Banderas, south of P.V.
Maps courtesy of Boca Divers, visit them at www.BocaDivers.com