Robert Burridge
"The Casa Experience was -spiritual magic- Bob Burridge was even more masterful as an instructor than I anticipated -the Best! Kate was also wonderful"
– P. K., San Diego, CA

Robert Burridge, a noted award-winning Industrial Designer who, after twenty-five years in the corporate world, focused his life to painting everyday. Burridge attributes his success to his education from the University of the Arts in Philadelphia, his stint as an adjunct professor at Cooper Union in New York City, and in 1966, his Fluxus art performances with Yoko Ono, Nam June Paik, Jim McWilliams and Charlotte Moorman.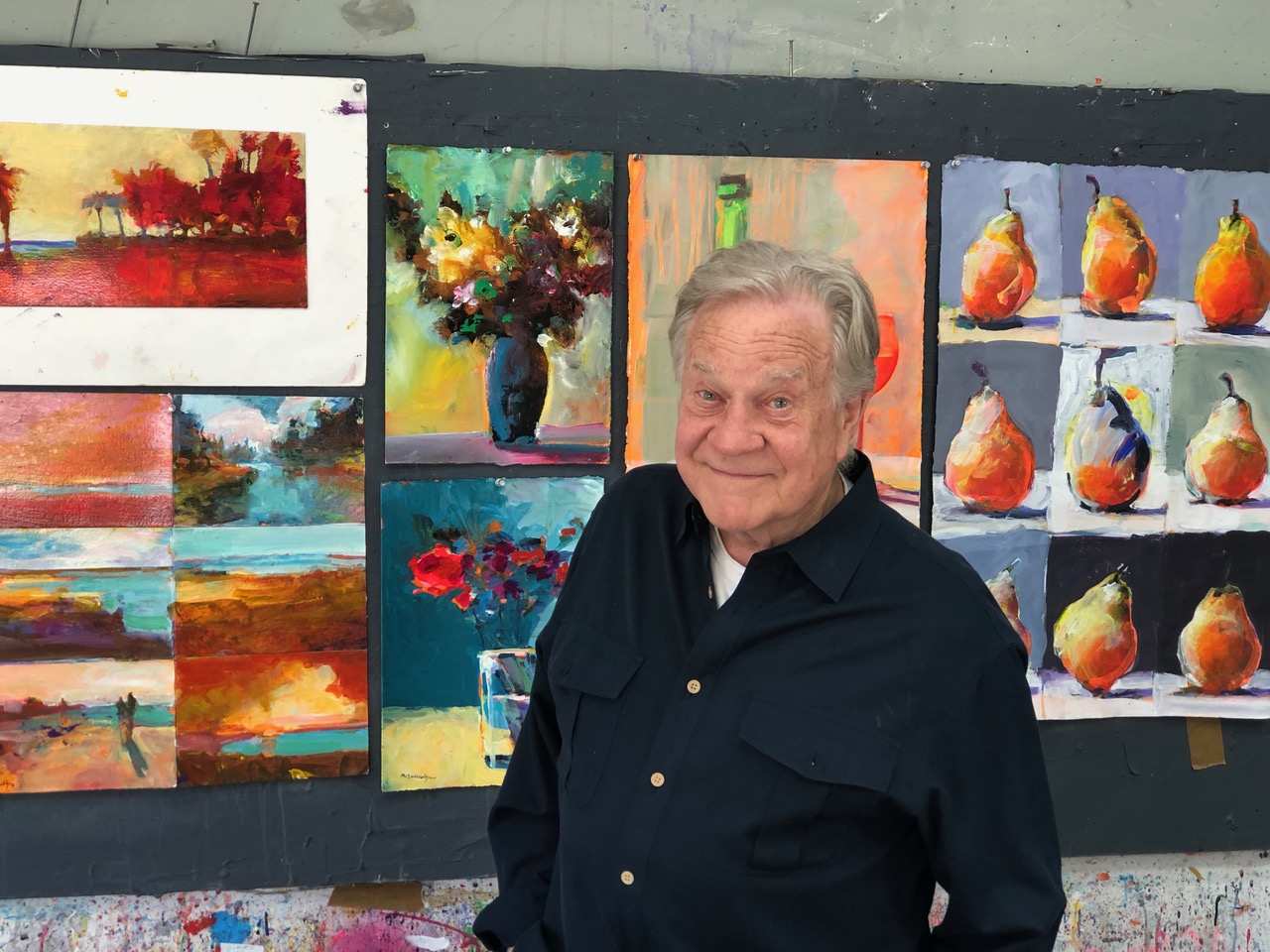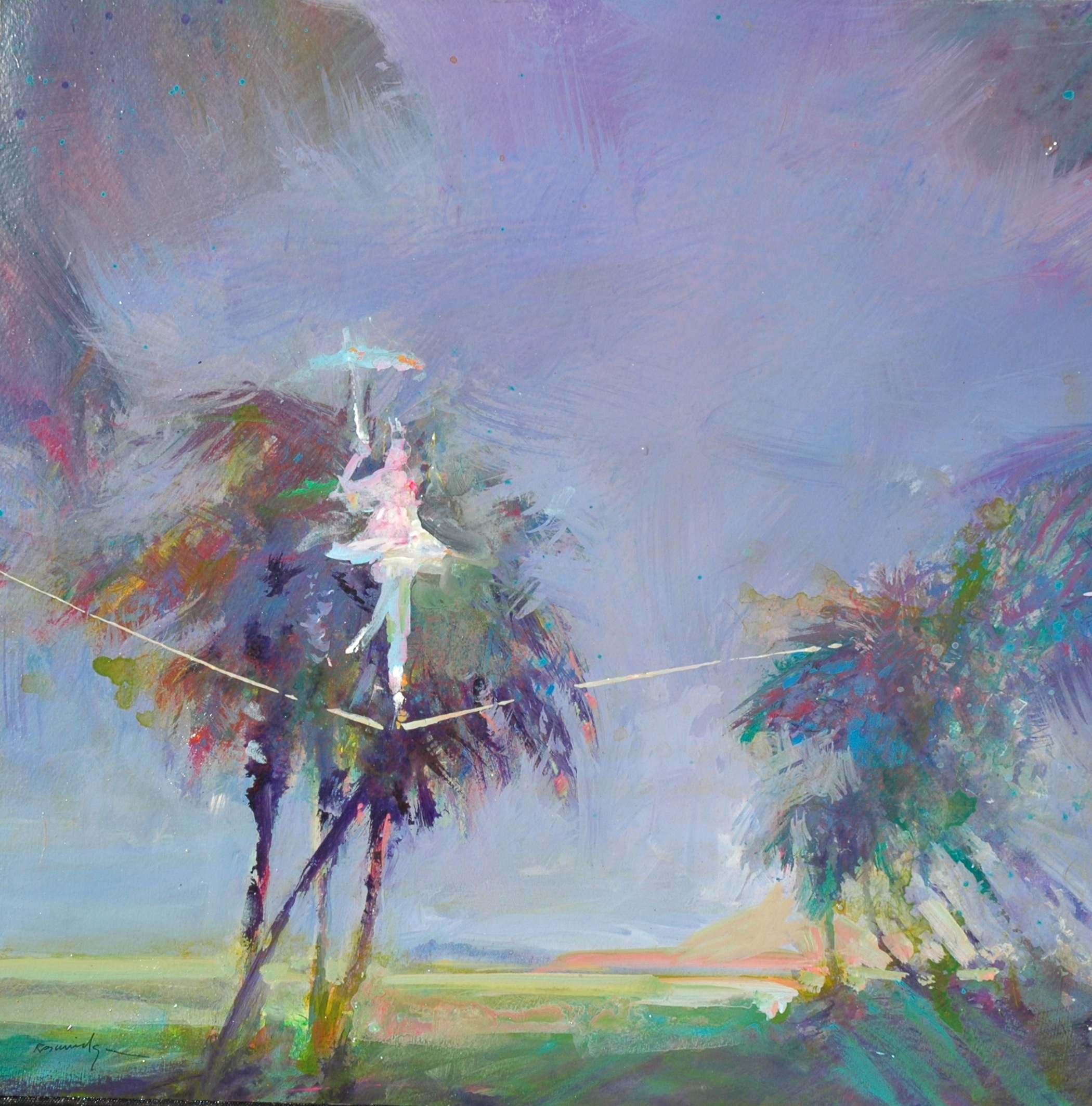 Robert Burridge, Tropical Performer, acrylic
His work hangs in permanent collections of international embassies, corporate galleries and art colleges. His solo museum exhibitions received positive attention, so he was invited to exhibit his paintings at the Smithsonian Folklife Circus Arts Festival in Washington, DC.

Bob Burridge, "Start Abstract Painting Today – The Magic Studio" video.
(See more videos of Bob Burridge demo's, etc, click on the
"details of this workshop" below and scroll down)
---
Loosen Up Painting Workshop in Mexico
A Unique Workshop with Robert Burridge
January 13 – 20, 2024
Click to see details of this Workshop
"Joseph Campbell said that the key to a life well lived, with purpose and meaning was to "follow your bliss." Great advice, but just what does that mean? Come to the Boca and meet people who are doing just that. Not just Bob and his family, but others you will encounter in the course of the week of activities embody Campbells' advice. The things you do and see go well beyond the usual workshop experience. You will leave inspired and contemplating a return to Boca de Tomatlan." – Pat.K. – Los Angeles
Robert Burridge, Abstract Landscape Series, acrylic
Robert Burridge, Multi Cups, acrylic
Robert Burridge Shares –
"Starting my Day in the Studio"
I'm often asked, "How do I start?" The very first thing I do after walking to my Studio is to prepare the place to be productive. Anything that does not serve me for "the day's painting assignments" is put away out of sight. I prefer a clean, uncluttered studio when I create. The tables are covered with polyethylene and taped down. Next, Sirius Radio or Pandora sets the atmosphere. And furthermore, I have an old habit left over from the 60s… I light incense. Again, it sets the tone, calms me and helps me focus on the task at hand.

Always with me is my sketchbook with notes and any painting assignments that Kate and I have determined from our earlier morning meeting. And some mornings I play my electric drum set I have in the corner. I play for an hour – it's my stretching exercise. Now I'm ready to paint. It's 8:30am… like a real job!

Usually, every morning I start with small 6×9 inch warmup paint sketching consisting of a series. The Painting of the Month Club starts with this excersise. After an hour or so, I'm ready to get into my major purpose of the day – the body of work I've been painting for awhile, such as my exhibit series, a museum show or the Sausalito Art Festival. By this time I'm usually in the groove, which will last all day, uninterrupted.

Before painting, I journal. This becomes my "job description" and includes my daily four Cs. What's the CONCEPT? The big idea. What's the COLOR COMBINATION? I place on the table only those tubes of predetermined colors, plus black and white. What's the COMPOSITION? I have twelve to choose from. The next C is a no-brainer – COMMITMENT to the concept. I'm a painter and I'm committed to the task at hand. And the last C is CONTINUE THE SERIES.

Some of my studio tables hold pre-gessoed and precut paper taped down. Others tables have a stack of small canvases; and on the wall hangs larger canvases. The stage is set for my typical studio day. Once all this is in place, I paint all day without stopping the flow of "creative automatism." Once I start painting, I am all about production and flow. I can trace all that back to my earlier life to product design and manufacturing… and that's how I start!
– Robert Burridge
Robert Burridge, Aerial View, acrylic
See more videos & read more about :
A Unique Workshop with Robert Burridge
To learn More about Bob Burridge, visit www.robertburridge.com