Casa, Studio North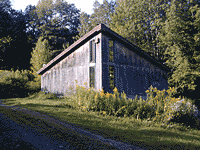 We are located on Apple Valley Road in the rural New England town of Ashfield, Massachusetts on approximately 16 acres of rolling fields and forest with a beautiful brook cascading along the south edge of the property and across the other side of a quiet country road. The studio is 2 floors, approximately 1,800. square feet. The bottom floor, (basement), is a frame/prep shop and storage for paintings and materials, the top floor is the painting studio. Ashfield is a small town nestled in the foothills of the Berkshire Mountains just a half hour Northwest from Northampton MA, (voted one of the best small art towns in America), 20 minutes west from I91and 12 minutes south of picturesque Shelburne Falls, with it's famous Bridge of Flowers. Ashfield has a lake for swimming, (and the Ashfield Lakehouse Restaurant), wonderful hiking trails and nature preserves with ponds, brooks, waterfalls, etc. In the center of town is a hardware store, pizza parlor, conveiniance store and Elmers Country Store/Restaurant -Natural Foods Grocery and Art Gallery, (famous pancakes with real maple syrup -locally produced), elmersstore.com – Across the street from Elmers is a B&B – The Inn at Norton Hill, (don't miss Masla's panoramic mural on all 4 walls of the main dinning room). If your planning to do a workshop at the studio we can recommend a number of other wonderful B&B's in the area. Drop us a line or give a call.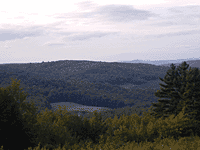 Apple Valley in Ashfield as seen from "Bear Swamp Lookout", (- a favorite place to paint from).  Clearing is the hill behind Masla Studios North
Accommodations for Art Workshops at Robert Masla Studios North
962 Apple Valley Rd. Ashfield, MA 01330 (413) 625-8382Â
The Inn at Norton Hil & Elmers Store and Restaurant (413) 628-4003 Simply the Best – Not just because Bob Painted a beautiful mural of Ashfield that adorns all 4 walls of the main dinning room of the Inn, but your stay includes a killer breakfast at Elmers next door, (voted the best pancakes in New England by Yankee Magazine) and the Inn is in the center of Ashfield just a 5 min ride from the studio and a short walk to the lake if you want to take a dip after a day of painting. www.innatnortonhill.com

Bird's Nest Bed & Breakfast (413) 625-9523 (the next closest, approx. 10 min. drive to Masla Studios), Cyndy & Pat Weeks
 #2 Charlemont Road, Buckland, MA 01338. A 1797 home in the foothills of the Berkshire Mountains. Three bedrooms with private baths. Very peaceful-great for creative getaways. Full breakfast with local and organic produce, farm fresh eggs, and homemade baked goods. Tea & Coffee always available. Rates $95 to $125. Children 10 and over please.
Dancing Bear Guest House B&B (413) 625-9281 (approx. 15 min. drive to Masla Studios)Philip & Edith Bragdon 22 Mechanic St . Shelburne Falls, MA 01370. A European-style Victorian bed and breakfast hosted by innkeepers, Philip and Edith Bragdon. Located in the 1852 Moses W. Merrill house. A 5-minute walk to all Shelburne Falls attractions. Offering an ample breakfast of fresh fruit, fresh-baked breads and pastries, brewed tea, coffee, and espresso. Room rates are $89 from November through May, $99 from June through September, and $109 in October. Children are welcome!
Inn The Village B&B (413) 625-2324Â  (approx. 15 min. drive to Masla Studios)
Marybeth Koreman 17 High St Shelburne Falls, MA 01370. Lovely, elegantly appointed 1880 Victorian in the heart of the village. 5 minute walk to shops and Bridge of Flowers. 2 bedrooms, king size beds, private baths, cable TV/DVD, AC and wireless internet. Full breakfast emphasizing our local and organic foods. Reservations being accepted for September 1 opening. $130 per night.
The House in Pumpkin Hollow (413) 369-6007 (approx. 15 – 20 min. drive to Masla Studios)
Diane Poland 173 Whately Road Conway, MA 01341 This lovely 1860 Greek Revival home has been completely restored with both comfort and graciousness in mind.
Johnson Homestead B&B (413) 625-6603 (approx. 15 min. drive to Masla Studios)
Susan Grader, 79 East Buckland Road, Shelburne Falls, MA 01370 Restored late 1800's colonial on 80 peaceful acres, only 8 minutes to Shelburne Falls. Full Breakfast, Fresh baked goods daily, no credit cards please. 3 rooms; private baths available. Prices range from $75 – 110, $20 for each extra person in a room. Fresh country air!
Six Maple Street Bed & Breakfast  (413) 625-6807 (approx. 15 min. drive to Masla Studios)
Judith Hoyt, 6 Maple St. Shelburne Falls, MA 01370. Stay at this charming 1784 colonial house a short walk to downtown Shelburne Falls. 2 rooms A/C $90-$100. Friday to Sunday, May to November. Check in after 3:00, checkout by 11:00. There's a great front porch. No children, pets, or smoking. Wake to a generous continental breakfast.
The Nestle Inn (413) 268-8414 (approx. 15 – 20 min. drive to Masla Studios) PO Box 604590. East Guinea Road Conway, MA 01341
Twin Maples (413) 268-7925 http://www.twinmaplesbnb.com (approx. 20 min. drive to Masla Studios)
Eleanor & Martin Hebert 106 South Street, Williamsburg, MA 01096
Penrose Victorian Inn (413) 268–3014 Toll Free: 888.268.7711 (approx. 20 min. drive to Masla Studios). Nancy & Dick Zimmer 133 Main Street Rte 9, Haydenville, MA 01039 www.penroseinn.com