Sterling Edwards
Sterlings return to the Casa to be announced

Sterlings workshop in 2012, 2013, 2014 workshops were fantastic and we look forward to his return!
– Date to be announced.
"The Casa Experience was excellent! – Sterling Edwards is a fine teacher with excellent demonstration skills. He was also very helpful one on one with our watercolors. It was great the way he maxamized the use of this fabulous setting in his demonstrations!"
-Mary Annn M., Boston, MA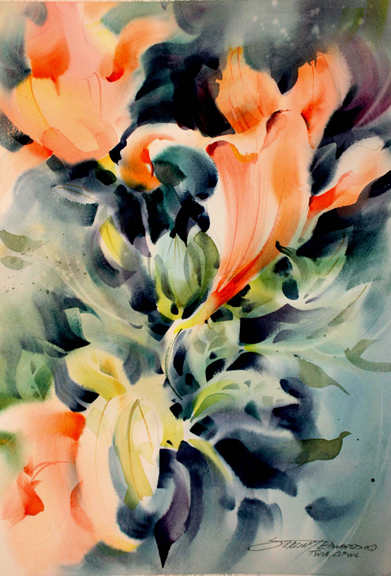 Sterling Edwards, "Orange Jewels At The Boca", watercolor demo at the Casa
Sterling Edwards is a listed contemporary watermedia master and photographer born in Kansas City, Missouri in 1951. At age twelve, he was enrolled in oil painting classes after his parents noticed that he had a natural ability to draw. From that time until the present he has been intrigued with art of all mediums and has taken advantage of every opportunity to expand his knowledge and skills. Though Sterling is predominantly self taught, his work has been influenced by his friend and master artist, the late Zoltan Szabo.
Most of Sterling's paintings are interpretive statements that reflect his love of the outdoors. He usually paints with large brushes to capture the basic shapes of his subject while keeping detail to a minimum. Once the basic shapes have been identified he looks for opportunities to overlap and interlock the shapes to create balance in the painting and to develop a strong composition. This combined with a dramatic balance of strong light and dark values, and unusual and expressive colors and patterns, results in a unique painting that is often a balance of abstract and representational design that captures the mood and dynamics of the subject as interpreted by Sterling.

Sterling Edwards, demos an abstract still life watercolor at the Casa in February of 2013
This video was produced by 2013 Casa intern/partial scholarship recipient,
Lori Boast of Canada.
(Give us a call to find out more about our intern/partial scholarship program, (413) 625-8382). Scroll down to see more videos and images and be sure to click on the link to Sterling's workshop description page at the bottom to see even more.
In 1993 Sterling began teaching his style of painting at workshops throughout the United States, Canada, and Mexico. He was a featured artist in the fall 2001 issue of Watercolor Magic Magazine in an article titled, "Ones to watch" and has been featured in numerous newspaper articles nationwide. In 2007 he was awarded signature member status in the Canadian Society of Painters in Watercolour, an international organization based in Toronto, Canada that recognizes those who have mastered transparent watercolor. Also in 2007 Sterling designed and introduced a signature set of watercolor brushes and a watercolor palette that are
marketed internationally. He is a co-founder of the Rusty Nail Painters, an international invitation group of professional artists based in Canada that meet on occasion for an intense week of painting, discussion, and sharing of ideas and philosophy about art. In 2010 he was awarded signature membership status in the esteemed Transparent Watercolor Society of America. That same year he was selected as a featured artist in the book, "Best of America Watermedia Artists" published by Kennedy Publishing Company. He is the author of the best selling North Light book "Creating Luminous Watercolor Landscapes, a Four Step Process", published by F+W Publishing Company and is a contributing artist in numerous other magazines and books. In 2013 Sterling was proudly accepted into the newly established International Watercolor Society.

Sterling Edwards Demos a Zoom Finder, (part 1)
Today Sterling's book, signature line of products, and instructional DVD's are marketed world wide. His award winning watermedia paintings are in private and corporate collections throughout the world and he is represented by several galleries in the U.S and Canada. He works from his home studio in Hendersonville, North Carolina located in the beautiful Blue Ridge Mountains.
Sterling Edwards, Making Fertilizer, watercolor on Fabriano cold press paper
Sterling Edwards – "Velma's Favorite", watercolor on Fabriano cold press paper
Sterling Edwards – "Night Rythms of the Boca", watercolor on Fabriano cold press paper
"The week in Boca with you guys, Bob, and my classmates is very high on my list of best trip ever. To have the privilege to stand next to and watch a master produce his outstanding and creative works of art is etched in my mind forever. If I can be of value in your marketing effort please use me as a referral by email, Internet or phone. Sterling and Bob have the opportunity to create a great Boca partnership. I can never remember a week going by so fast–I didn't want it to end.
Thank you Bob and your staff for all of your hard work putting the package together, Sterling you are a great artist and teacher with a fine assistant and a special thank you to my fellow students. I hope to see you next year in Boca and thank you all for a wonderful experience."
-Stan Fisher, CA, (participant in Sterling Edwards Workshop)

---

"For an artist, the Casa Experience is like filling up the well of creativity with a good wine. – Having the all inclussive package helps with concentrating on the workshop. A vacayion from decision making – Ya! Personally, I enjoy the more relaxed and authentic style here at the Casa and nearby apts. used for the workshops, (than "fancy resorts").  Sterling blended last years instruction with this years perfectly. Bob's additional expertise was a great help for our large group. Casa de los Artistas is perfect for an artist to recharge their creative spirit. A very unusual all inlusive experience where you do not feel rushed or expected to join every outing. In a scale of 1 to 10, a 10+!"

– Jill, Parkdale, OR – (return participant in Sterling Edwards Workshops, 2012 and 2013)

---

"The time spent at Casa de los Artistas was inspirational, both in creative atmosphere and also in relaxing. It is truly a "House of Artists". It can't get better than that!  Sterling is an excellent teacher, and Bob is too. They both were more than helpful and instructive in a very pleasant manner. The workshop was extremely informative and fun.

The beautiful weather and scenery and the friendly people, (both the staff and townspeople everywhere!), along with comfortable accomodations that had wonderful balconies, a studio with plenty of room, beautiful view and fresh air and meals that were so well prepared and tasty, (Ruby is truly a gem), all make for a nice set up to be creative! In all, more than I expected!!

-Anita R., Lake Oswego, OR – (participant in Sterling Edwards Workshop, 2013)