Lian Quan Zhen, January 11 – 18, 2020
"Watercolor Painting – Color Pouring and Blending"
with Master Watercolor Artist
Lian Quan Zhen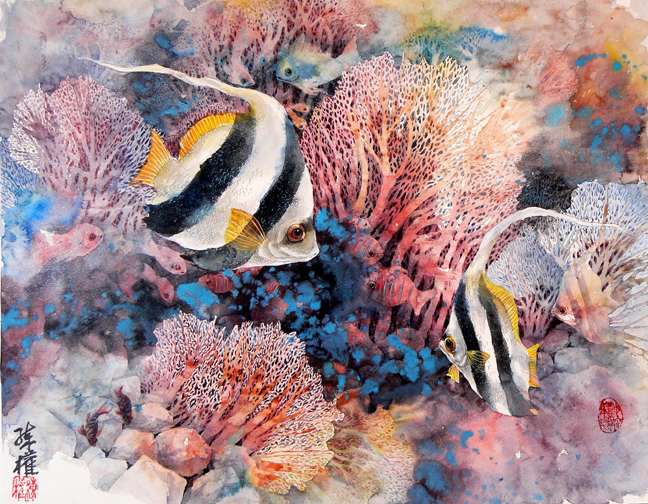 Lian Zhen, "Butterfly Fish", Chinese Painting, half Detail, half Spontaneous style, 16″ x 20"
What to expect:
An incredible week of serious painting, study and fun in a charming fishing village and other exotic locals along the gorgeous Pacific coast of Mexico, with renown artist – workshop leader Lian Quan Zen! If you are interested in building your watercolor skills and learning the techniques of this master watercolor artist then this workshop is for you. Lian generously shares his knowledge, wisdom and expertise through a variety of exercises, demos, lectures and critiques. Immerse yourself in the joys of authentic Mexican village life at one of the most beautiful and arts oriented locales in Latin America, Casa de los Artistas, in the safe and serene village of Boca de Tomatlan, 10 miles south of Puerto Vallarta.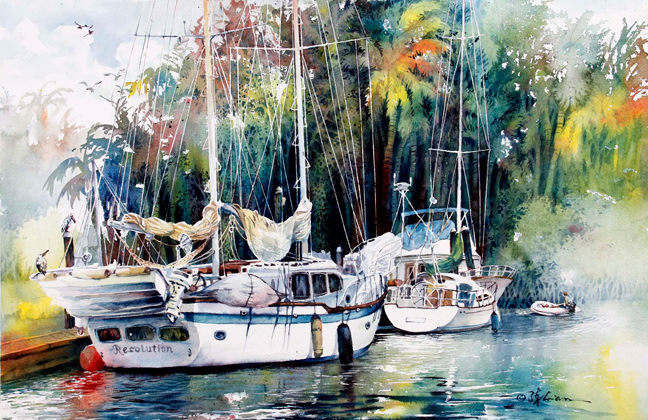 Lian Zhen, "Boats", watercolor
A glimpse at the workshop and the weeks itinerary:
Arrange to arrive on Saturday, January 13th after 12pm on, at Puerto Vallarta International Airport, and taxi to Boca by 2pm on, (we arrange taxis to share back to the airport the following Saturday,cost is about $10. to $30 depending on how many share a taxi, see our FAQ's for details). You will be shown to your private room, with balcony and wonderful views, settle in, refresh yourself – breath in the unique environment of the Boca and then, in the late afternoon, join other participants on the second floor of the Casa in the main dining and living area for a snack and to meet and greet one another. We will have a short orientation and then at approximately 6:30 we will cross the river to have dinner at Ramones' Hauchinango ("Red Snapper") Restaurant, (this is a fishing village after all, though there are other things on the menu as well, to accommodate all varieties of diets). We dine on the beach with our feet in the sand as we become acquainted with one another and watch the sunset over the magnificent Bay of Banderas, waves lapping on the shore just a few yards away.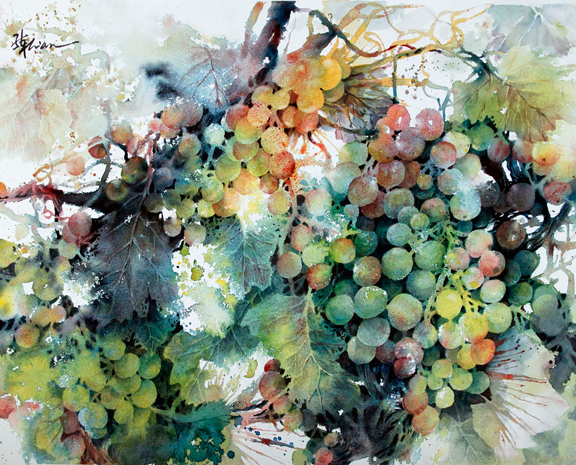 Lian Zhen, "Grapes", watercolor
Breakfasts (approx. 8:15 to 9am) and Lunch (1pm.) are prepared by our wonderful Mexican Chef Ruby and her assistant. These meals are served on the main floor of the Casa in the large dinning / living area and consists of a variety of healthful and delicious lacto ovo vegetarian fare. Always available are, coffee, tea, fresh fruits and juices, cereals, granola, peanut butter, jelly, cheese and milk. These are complimented by such things as pancakes with maple syrup (we are from Massachusetts) fresh breads and cheeses as well as traditional Mexican dishes like chiliquilles or huevos rancheros. Please let us know if you have any specific dietary restrictions, our chef Ruby is amazing and she will do her best to accommodate you – guests have always been blown away by her cooking.
In this workshop Lian will do several demonstrations every morning. Throughout the week our instructor will individually visit each student, so that you are assured individual attention. The methods and techniques of Lians painting: "Color Pouring and Blending and "Paint Around" techniques and how to compose and design a painting will be demonstrated and discussed.
In this workshop you will have the unique opportunity to witness and learn Lian's plein air painting techniques as he demos at a couple of exotic locations – a rare treat.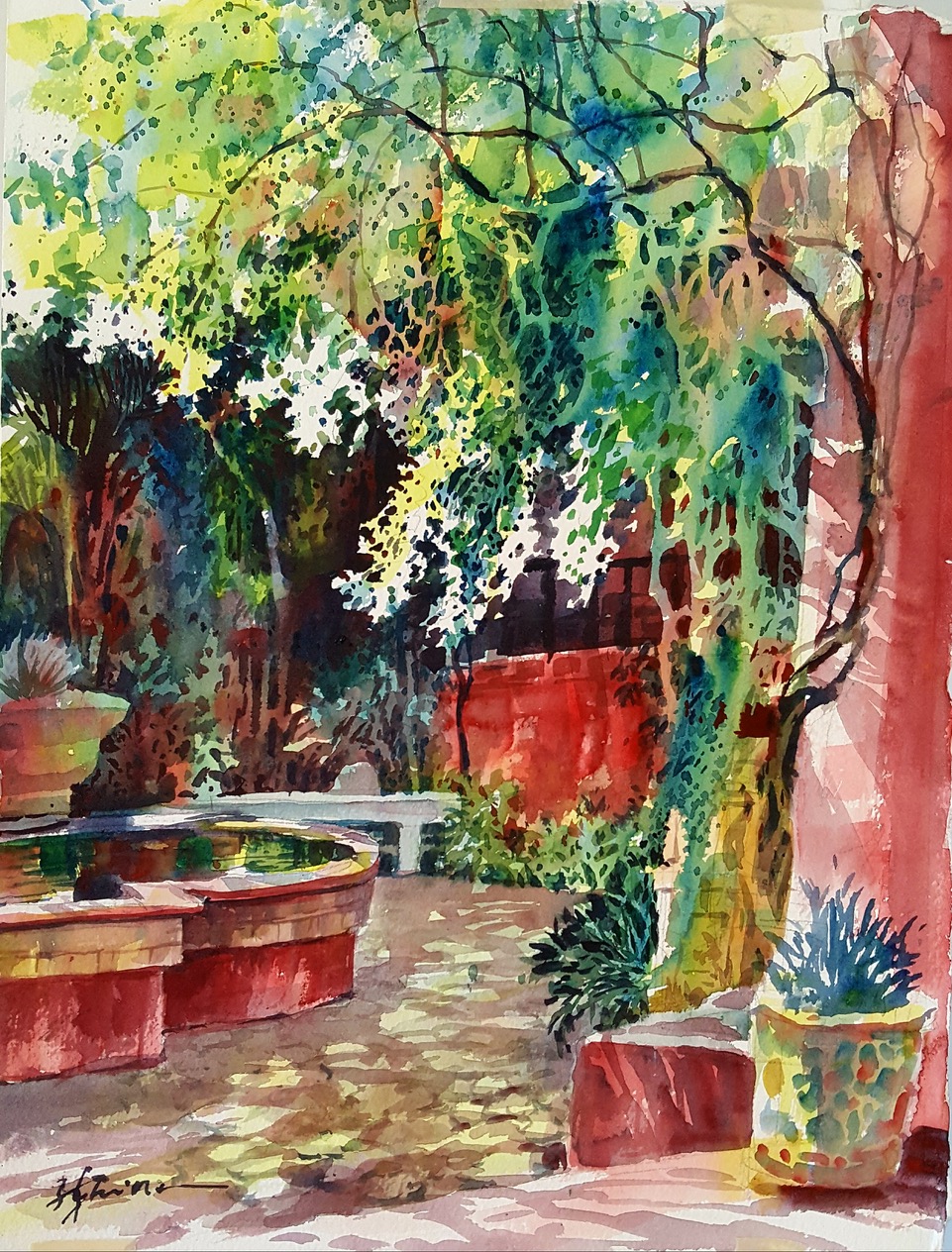 Lian Zhen, "Plein air demo at the Puerto Vallarta Botanical Gardens", watercolor on paper
Another gourmet meal is prepared and served by the Casa chef Ruby and her assistant at approx. 12:30 – 1 and after lunch is siesta till approximately 3pm. This is your time, – work in the studio if you like or engage yourself in one of the myriad of additional activities available to you at the Casa,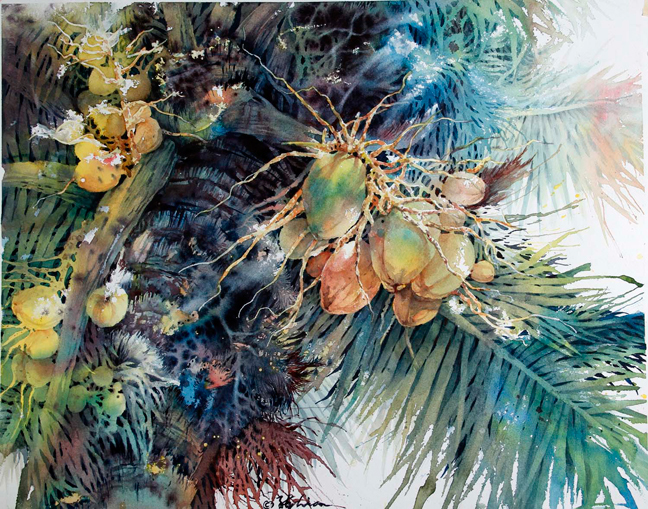 Lian Zhen, "Coconut Palm", watercolor
In this particular workshop we will be doing our painting in the Casa's magnificent 1000+ sqr. ft. open air studio with panoramic vistas of the mountains, quaint fishing village, river and ocean. We will also be getting inspiration on location both around the Boca and at the exotic locations our hosts will bring us, (included in the price of the trip). Students that desire to, should come prepared to paint outside, en plein air, at the excursion sites.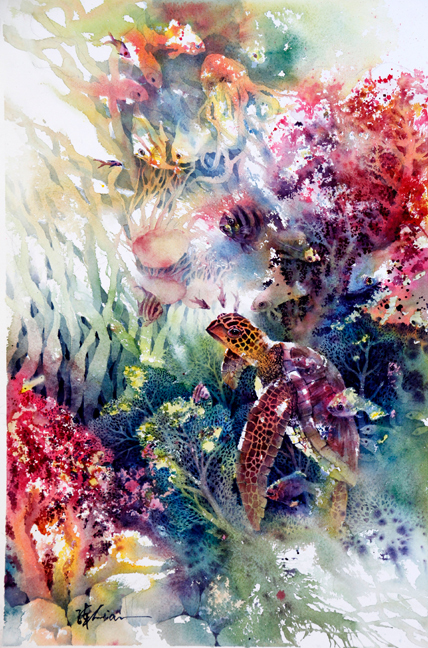 Lian Zhen, "Turtle", watercolor
The workshop is geared toward all levels of students who work in water media. For your convenience, the Casa studio is open 24 hours.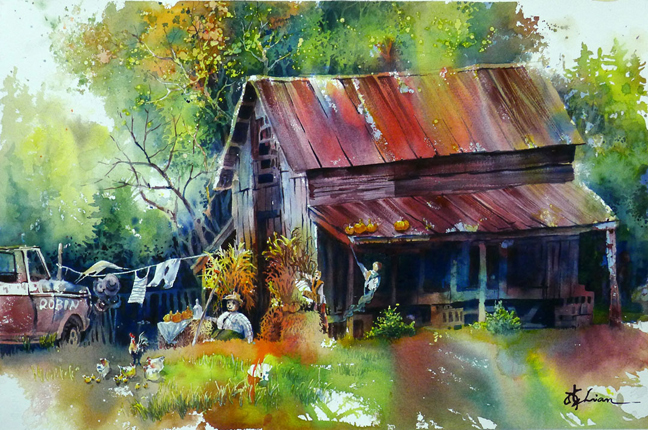 Lian Zhen, "Barn", watercolor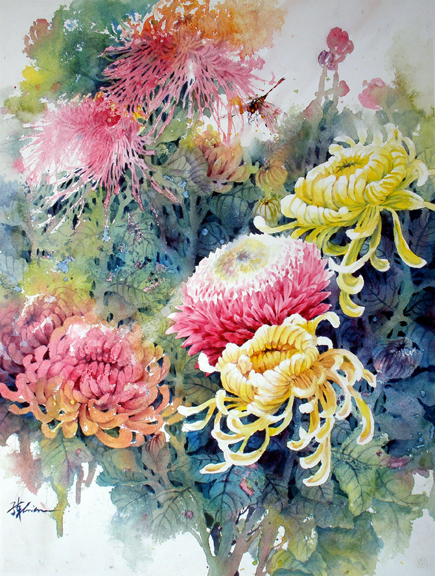 Lian Zhen, "Chrysanthemums", watercolor
This is a workshop that will be fun and an in depth learning experience. Come and spend a week relaxing in the tropics, finding inspiration and learning from one of the great contemporary watercolor artists teaching today.

Lian Zhen, "Gold Fish", watercolor
Suggested Materials:
Brushes: American Journey, Loew-Cornell synthetic and Windsor and Newton brushes recommended.
Round – number 1, 2, 4, 6 & 8
Flat – ¼ inch (with wedge shape at end of handle for applying masking), ½ inch and 1 inch
Colors (tubes): Three tubes of the primary colors from any of the following: One Blue – Antwerp Blue (Windsor and Newton), and/or Prussian Blue (M.Graham &Co.); One Yellow – Hansa or Azo Light light (M.Graham &Co.) or Bumblebee Yellow (American Journey). One Red – Pyrrol or Napthal Red (M.Graham &Co.) or Joe's Red American Journey) Other similar primary colors are OK.
Paper:  Half sheets (15″x22″, or 16″x20″) 140 lb Cold Press watercolor papers, Arches or Kilimanjaro, NO EXCEPTIONS. 5-day watercolor workshop needs 4, 3-day watercolor workshop needs 3, 2-day watercolor workshop needs 2.
Palette: One large size palette like John Pike Watercolor palette (not little ones, large white color plate is OK).
Masking Fluid: A new bottle of light colored art-masking fluid (Shiva Liquid Masque by Richson Mediums and Windsor and Newton's yellowish color masking are recommended. If Cheapjoes dose not have them buy from Amazon.com).
Other: One plywood board or gatorboard size about 16″x23″ for taping down the half sheet size watercolor paper, Three small dishes for making color liquids, a roll of masking tape or clear packing tape, 2 sheets of graphite papers (transfer paper, erasable), a hair dryer, a medium size water sprayer, a brush washer, an apron, 3 sheets of tracing papers size about 15″x12″, a pare of scissors, a B2 or #2 pencil, erasers and one roll of white paper towel.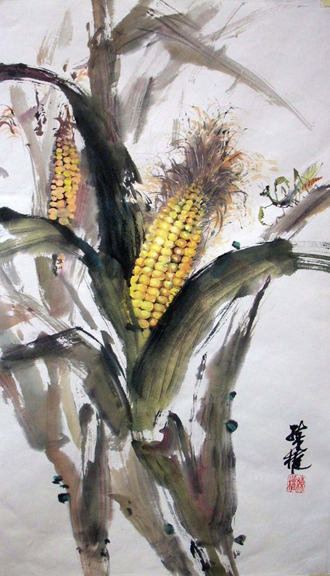 Lian Zhen, "Corn", Chinese Painting in Spontaneous style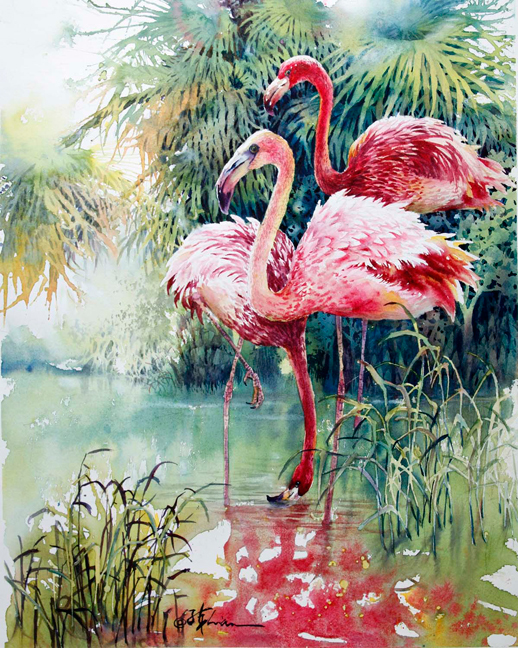 Lian Zhen, "Pink Flamingos", watercolor
---
SEMINAR IS LIMITED !
REGISTER NOW TO RESERVE YOUR PLACE!
BOOK YOUR FLIGHT EARLY
You can reserve your place with a $500. credit card deposit, (no surcharge) or pay in full (surcharge applies)