Keiko Tanabe February 10 – 17, 2024

Capturing Essence with Watercolor
We had such a wonderful time with Keiko during her first two workshops at the Casa in 2022 and 23. She is such a wonderful painter and teacher, (and beautiful person). – We are eager for her return in 2024!

This workshop is designed for those who would like to gain a better understanding of methods and techniques to make a watercolor painting that is simple yet strong. The goal is to capture the essence of the subject that conveys a certain mood. The process of simplification begins with visualization. In representational art, this ability to see the end result of a painting, through the mind's eye, is instrumental in realizing an artist's vision. Through complete, step-by-step demonstrations, Keiko will show you how to take the initial inspiration, through the simplification process, to an expressive painting that is strong in composition and content that is full of light and atmosphere.
Keiko Tanabe, Market, Japan, watercolor
Keiko Tanabe, Santa Fe Sunset, watercolor
This workshop is open to all levels (basic knowledge & some previous experiences strongly recommended to gain the most benefit from this workshop)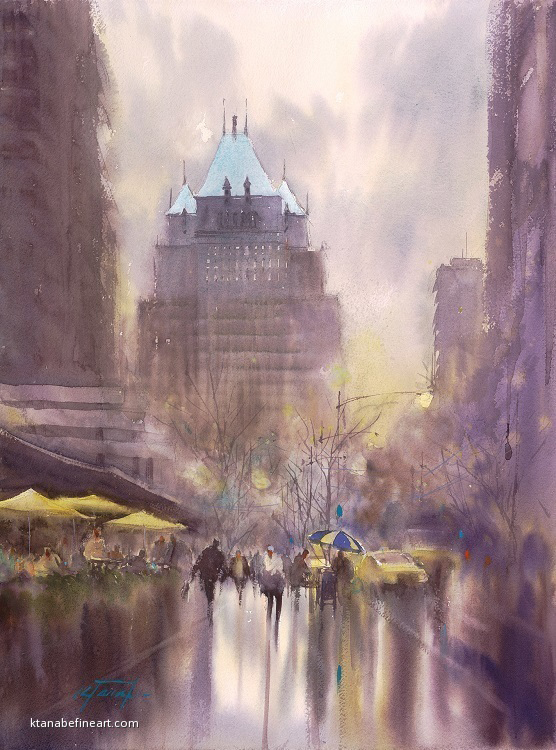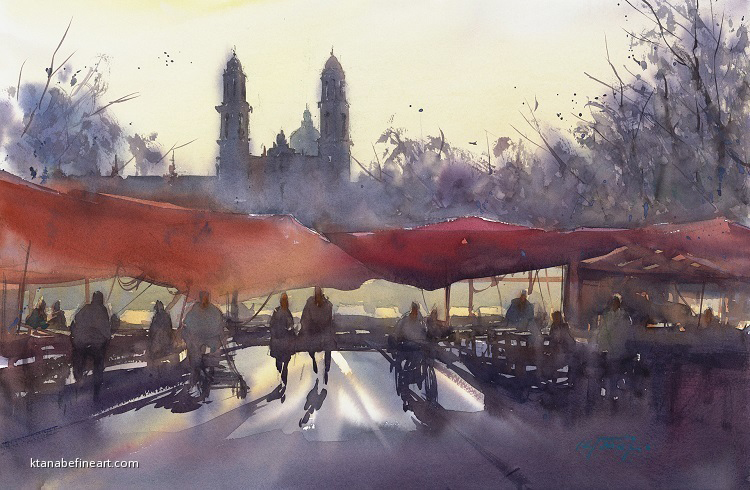 Subject matters include landscape, cityscape, waterscape and interior. The introduction focuses on the fundamentals including getting to know our materials and seeing things with an artist's eye.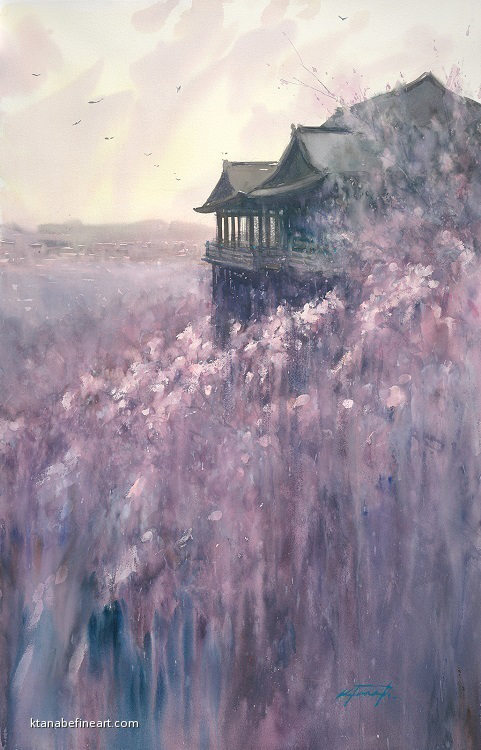 The areas of topic covered in this workshop include: a preliminary drawing and composition, a variety of techniques in paint application and brush handling, what makes a good design, understanding of relationship of dark and light values, planning & intuition, and how to edit complex visual information.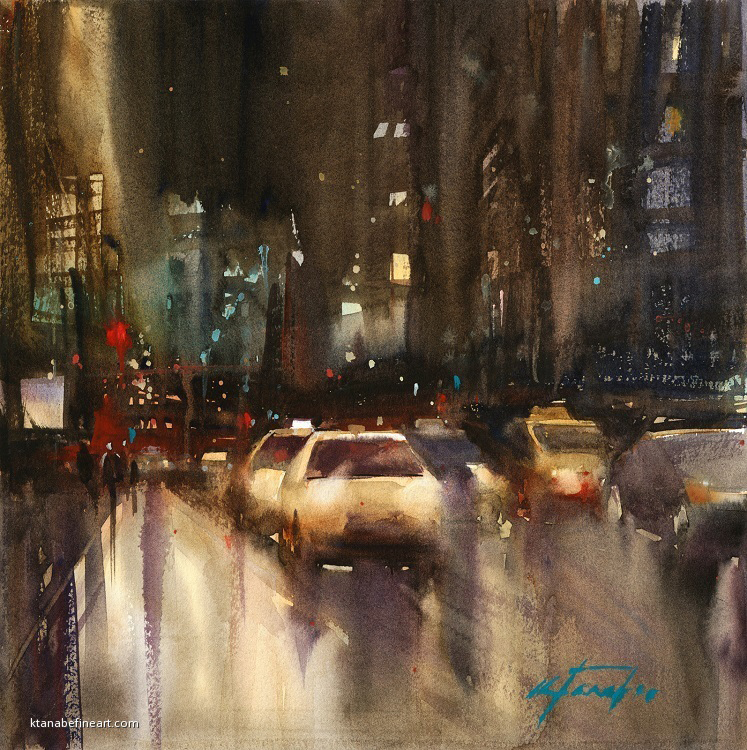 There will be a demonstration, plenty of one-on-one guidance and a question-and-answer session on a daily basis. A class critique may be conducted at the end.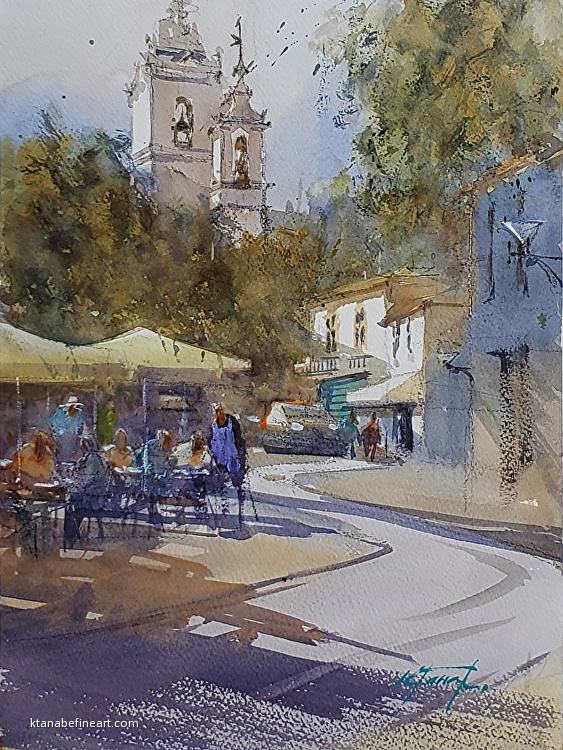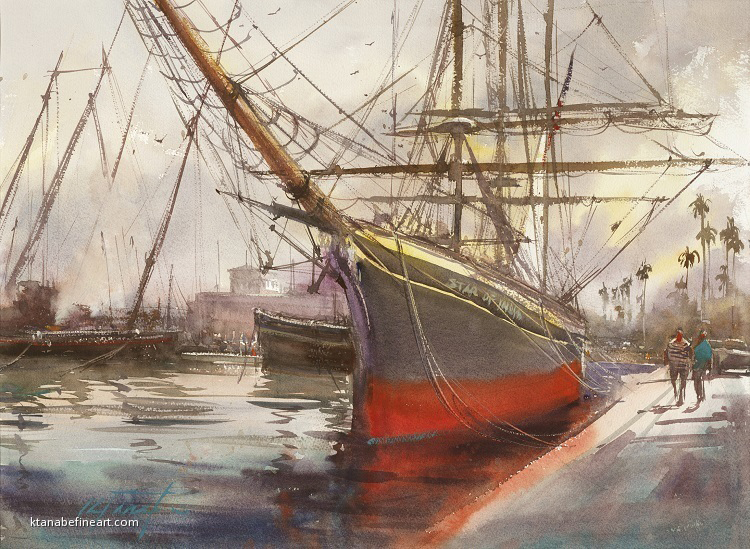 SEMINAR IS LIMITED !
REGISTER NOW TO RESERVE YOUR PLACE!
BOOK YOUR FLIGHT EARLY
Keiko Tanabe February 10 – 17, 2024
You can reserve your place with a $500. credit card deposit, (no surcharge) or pay in full (surcharge applies)
Suggested Materials List for this
Casa de los Artistas Workshop
IMPORTANT! Keep it simple, portable and easy to carry.
– Paints: any colors, brands; professional quality.  My basic palette consists of cobalt blue, cadmium red, orange, permanent alizarin crimson, burnt sienna, quinacridone gold, raw sienna, lemon yellow, cobalt turquoise.  It may also include: French ultramarine, sepia, neutral tint, titanium white, Dioxazine violet, quinacridone magenta, green gold, viridian and lavender.  Sennelier, Winsor & Newton, Holbein, Daniel Smith.
– Palette: any kind.  A light-weight, smaller palette recommended.
– Brushes: One for an initial wash: a larger size round with softer hair (such as Rafael Softaqua, Escoda Ultimo #18, Isabey squirrel mop).  One for details with a fine point (such as Escoda Perla #12, Rafael Presicion).  Others (such as an Oriental calligraphy brush, rigger, dagger)
– Paper: rough or cold-pressed; 140Lb (300gm); professional quality such as Arches, Saunders/Waterford, Fabriano Artistico.  Please practice on whatever you choose beforehand to make sure it works for you.  Please also bring a few sheets to test/practice on.
– Paper Size: 14"x20" (36×51 cm) or smaller.  Plan on using 2 sheets a day.
– Drawing board, gatorboard, foamcore or anything that supports paper.  If you use a block, this will not be necessary.
– Masking tape, clips, or staplers to secure paper to the board
– Pencil (soft lead such as 2B and 4B) & eraser
– Sketchbook or drawing pad for thumbnail sketches and small studies.  Pencil, charcoal, watercolor graphite, watercolor marker, watercolor sticks, etc.
– A container for washing brushes
– Towels or sponge
 – Lightweight easel (if you stand to paint).  If you're considering a new purchase, here's what I recommend: http://www.enpleinairpro.com/ (Get 10% discount to purchase their complete packages.  Use code KEIKO10).
– Others (totally optional) e.g. masking fluid, tissue, color chart, viewfinder, value finder, ruler; portable chair, umbrella, sunscreen, bug spray, etc.
Please keep everything portable and light-weight, and do practice carrying everything, setting up and packing up your gear so your painting time in a workshop will not be wasted.  Please also check with the workshop organizer beforehand for whatever may be available for you free of charge or for rental.
Any questions about materials?  Please email me ktanabeart@gmail.com.