Rip Caswell
Join renowned wildlife sculptor Rip Caswell for a unique week of incredible learning and fun at Casa de los Artistas.

Last time Rip taught at the Casa they had just birthed a few Black Jaguars and Bengal Tigers. We had the incredibly rare opportunity to go in the pen with the babies, hold them, play with them, photograph them up close and measure them. We then went back to the Casa Studio and with Rips' expert and gentle guidance we all produced wonderful Jaguar sculptures.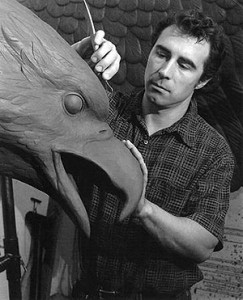 Rip Caswell specializes in nature inspired wildlife and figurative bronze sculpture and is renown for his ability to capture the spirit and essence of his subjects. Popular with private and corporate collectors worldwide. He has created more than 200 sculptures of various subjects in contemporary and realistic styles. An authority in wildlife art, Caswell's collectibles are credited to his deep understanding of living creatures – human and animal – in their natural environment. His sculptures have a life and breath of their own. Caswell often serves as a judge in competitions and presents at seminars. Many art galleries, publications and television broadcasts also have featured his works. The son of a professional guide and outfitter, Rip Caswell moved to the Northwest when he was just six years old. Everything about art attracted the young boy. His professional career has evolved as he mastered distinctly different art forms.
Clay sculptures: When his family lived in Northwest Washington for a time, he sculpted animals from the water-based clay from the shores of the Pend Oreille River.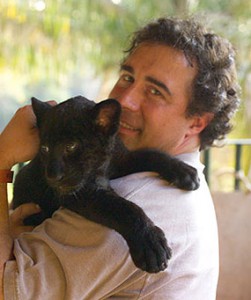 Taxidermy: Rip's father saw his son's talent and encouraged the boy to study taxidermy. For several summers Rip understudied with accomplished taxidermist, Bill Lancaster of Beavercreek, Oregon. In 1985, Lancaster offered Rip a full time job and the two teamed to become lead contenders in Northwest tax idermy. In 1988, the duo's entries swept the Northwest Regional Taxidermy competition by winning all bird and mammal categories. The competition had 96 entries and the Lancaster/Caswell team took every award at the event. Caswell repeated this effort on his own in 1989, again winning every award.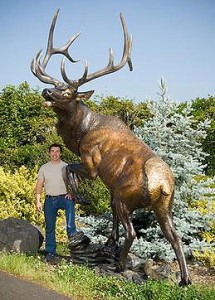 In 1990, Caswell decided to compete at the national level, planning eight months in advance. He chose to combine contemporary sculpture and traditional taxidermy. Those concepts were applied to his work on a green-winged teal, which took top honors. Bronze: Inspired by the prestigious win at Nationals, Caswell's friends suggested that he cast images in bronze. The Caswell Gallery opened in Troutdale, Oregon in December 1992, located next to a foundry. Recent commissions include the larger-than-life-sized sculpture of former Oregon Governor Tom McCall and an Iraq War Memorial in Madras, Oregon, as well as the installation of "The Battle" – two life-size elk – at the High Desert Museum near Bend, Oregon.
---
To be scheduled..
"Introduction to Sculpture – Materials and Techniques" with Award Winning Wildlife Sculpture – Rip Caswell
Special guest artist/co-facilitator and drawing with Casa Directer artist / co-facilitator Bob Masla.  To learn More about Rip Caswell,
visit www.caswellsculptures.com