Michele Byrne – March 11 – 18, 2023
Michele Byrne
"Impressionistic Painting with Palette Knife & Brush"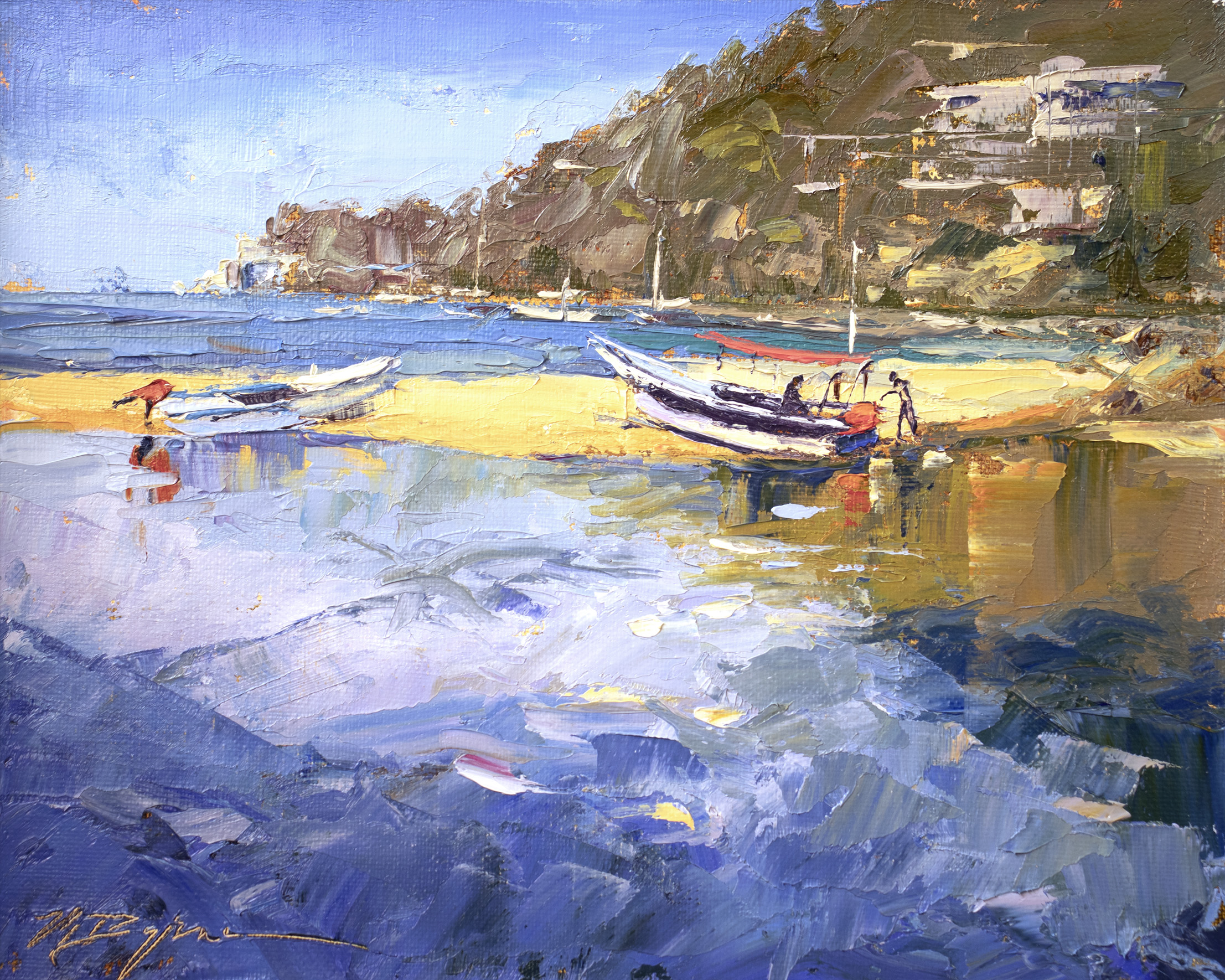 Learn to create dramatic paintings with palette knife and impressionistic brushwork. Join renown painter Michele Byrne when she returns for her second workshop at Casa de los Artistas. Watch as she demos her powerful palettte knife painting techniques. You will learn how to design a painting through value and strong composition that will lead your eye through the painting to tell a story.
Every painting tells a story and you are the director. In this class I will show you how to direct the viewers eye with value studies and strong compositional plans. You will learn how to do small value studies with a directional plan.
Michele will be teaching various techniques on how to hold the knife and make a great variety of marks. Information on paint manipulation and brushwork will also be included.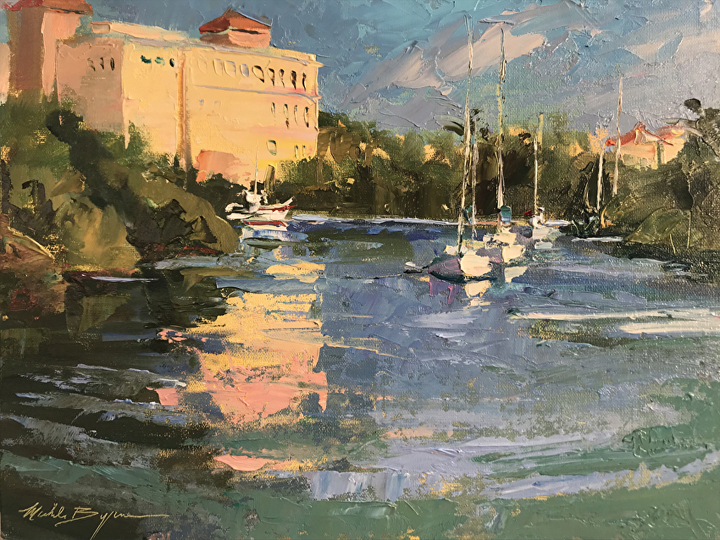 Each morning after a wonderful breakfast, there will be demos, either in the Casa open air studio or on the beach infront of the Casa or other locations. After, Michele will spend time with each student, at their easels, helping them through the process. This class will be lots of fun and Michele will encourage you to experiment with new possibilities.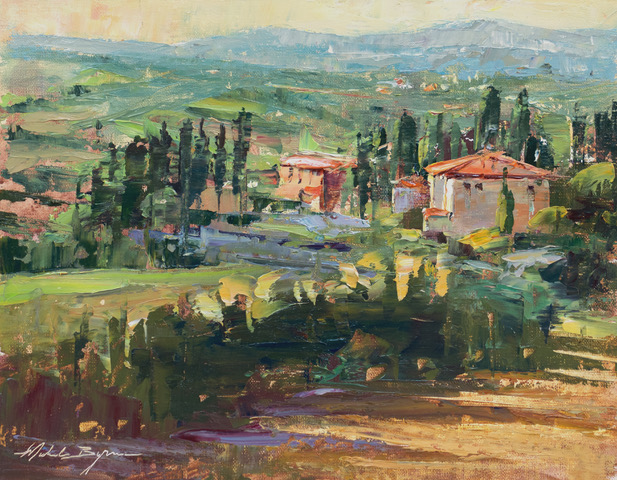 Join Michele as we paint on the beach in front of the Casa – (or in the open air Casa studio), with the fishing boats, exotic birds, waves, river, village and mountains all around us. Experience the gorgeous rock formations of the Mexican Pacific coast as we take a boat trip, (with opportunity of seeing whales, dolphin, tortoise and mantas) and then onto sketch and picnic at a beautiful beach. Spend the day painting incredible flora and vistas as we make the hacienda at the award winning Puerto Vallarta Botanical Gardens our studio where they serve us a delicious lunch. Step back in time as we spend the day painting in and around the zocalo of the quaint  mountain town of El Tuito, stopping only to have a sumptuous lunch in the patio garden of a hacienda style restaurant off the town square. This and more adventures await you when you join Michele Byrne for Impressionistic Painting with Palette Knife and Brush – in Paradise at Casa de los Artistas.
SEMINAR IS LIMITED TO 16 PARTICIPANTS !
REGISTER NOW TO RESERVE YOUR PLACE!
BOOK YOUR FLIGHT EARLY
You can reserve your place with a $500. credit card deposit, (no surcharge) or pay in full (surcharge applies)
---
Michele Byrne Workshop 
SUGGESTED SUPPLY LIST
Easel – any type suitable for plein air work (Julian, Soltek, Open Box M, Guerilla all work well).
Palettes
Please bring a LARGE, CLEAN palette for mixing paint.
Canvas
1 to 2 small canvases per day – 8"x10" to 12" x 16" (max.)
I prefer: Centurion Linen Panel (Centurion LX acrylic primed if using water soluble oils), 
Or Centurion DLX (oil primed) if you are using traditional oil paint.
Paint 
I use traditional Rembrandt oils as well as Cobra Solvent Free Oils – feel free to use whatever you are most comfortable with. For classes I usually paint with Cobra Paint
Listed below is the name of the traditional / Cobra – paint names are occasionally different, but are basically the same color.
Ultramarine
Viridian / Permanent Green Deep 
Transparent Oxide Red 
Permanent Alizarin / Madder Lake 
Cadmium Red Light
Yellow Ochre
Permanent Yellow deep
Permanent Lemon Yellow
Mineral Violet (Holbein or Holbein Duo)
Titanium White
Primary Magenta (optional)
Turquoise (optional)
I try not to use any medium, which makes me use more paint.  For fine lines and details at the end of my painting I sometimes use Gamblin Solvent Free Gel / Cobra Paste (this you do not need for the class)
Suggested Brushes
Flats  #2,6,10 (just a few of these are needed – or just bring what you have)
Watercolor Rigger # 1 and 3
Large 1 1/2" cheap brush from Home Depot or any larger brush for washes.
Palette Knife  – A decent quality trowel Palette Knife for mixing and applying paint (2 inch minimum blade)
                          MY FAVORITE: Italy RGM Style 30 (7/8" x 2 ¾" )– available through DickBlick.com
VIEWFINDER – PLEASE BRING A VIEWFINDER OF SOME TYPE 
Gloves – I wear gloves when I paint. It allows me to not worry about health hazards.
*Wet Paint Carrier – Please bring a wet paint carrier of some type to carry your wet paintings home in. If you do not have one a simple pizza box works well.