Susie Hyer, January 27 – February 3, 2024, MORE DYNAMIC PLEIN AIR AND STUDIO PAINTINGS
Join Susie Hyer for a fun week learning to make

More Dynamic Plein Air and Studio Painting.
Streetside, El Tuito, 16x12, oil on arches oil paper
Creating More Dynamic Plein Air and Studio Paintings, January 27 – February 3, 2024
In general, building a painting can be likened to building a house. The builder starts with a design or blueprint (our thumbnail sketch), then pours the foundation or footprint (the massing in of the basic shapes that create the design). Next comes the framework, the walls, the roof (building upon and relating these shapes to each other). Finally, we get to the details- carpeting, cabinetry, paint (this is the breaking these shapes down into smaller shapes where we want our details and focus.) Next comes decorating the interior (this is like color, texture, paint application) Learning to create a strong foundation or structure first prevents the collapse of the painting. Without this foundation or map, a painting may fall apart, after which we pick ourselves up out of the wreckage and begin again, frustrated, time wasted. This wreckage and brain damage can be prevented by creating a strong foundation or structure first
Morning Reflections ,30x30, oil on linen
The Golden Hour, oil
Create stronger and more dynamic paintings by understanding STRUCTURE…a strong foundation around which to build your paintings from the ground up, using two basic visual approaches that utilize big value shapes or statements, with which to simplify and design the 2-dimensional space. From there we will explore ways to control and finish a painting by deciding where to break down those big shapes into smaller groups of color and value. The ideas apply to both studio work and plein air painting. A more dynamic painting can be achieved when a good "abstract" design underneath the painting is utilized.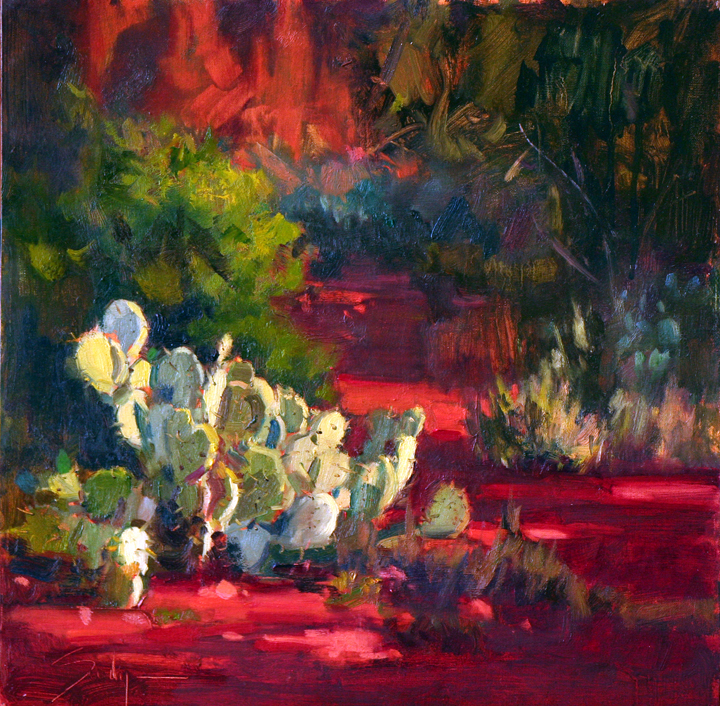 Desert Jewels, 16×16, oil on masonite
Lovers Lookout, 29x28, oil on wood panel.
 It is of great importance in plein air painting that artists get their ideas down very quickly because of the changing light and weather conditions. Utilizing these two approaches will allow you to get it down faster, giving you a "road map" to guide you through the painting process so you don't lose your way and start chasing the light when the light or weather has changed.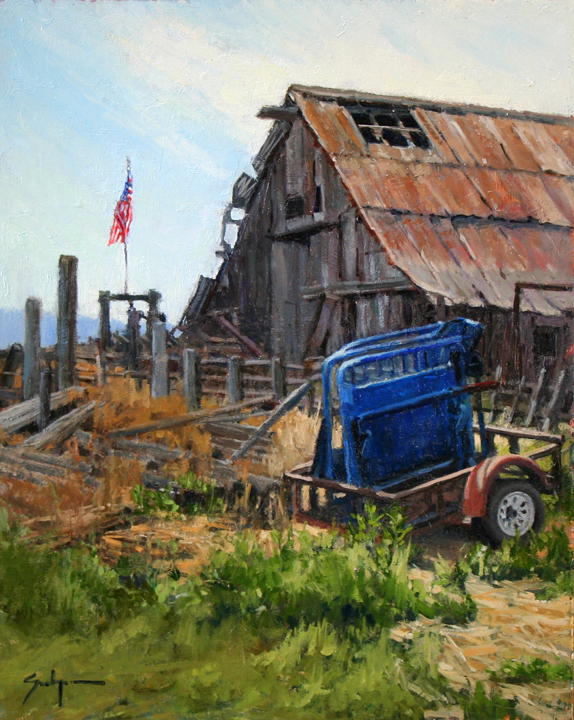 Arrangement with a Blue Shape, 20×16, oil on masonite
A Call to Prayer, 16x12, oil on arches oil paperFull Moon, Early Spring, 18x24, oil on birch
We will be applying the concepts and elements of design and abstraction that allow for movement and rhythm through the painting. Understanding these concepts facilitates more expression and exploration, allowing students to loosen up their painting, and explore different ways of putting down paint, texture or color. Structure is the key! If you want to "Level Up", this is how! 
Appropriate for beginners who have experience with their medium to advanced students, this workshop applies to most 2-dimensional mediums, so oil and acrylic, watercolor, and pastel painters may benefit, as would artists who work in graphite. These concepts apply as well to abstract work.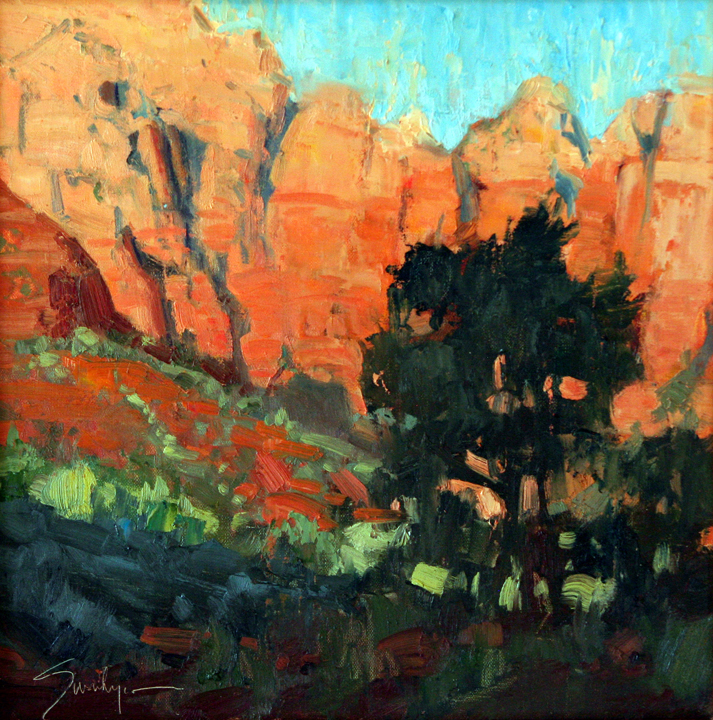 Copper Canyon Vista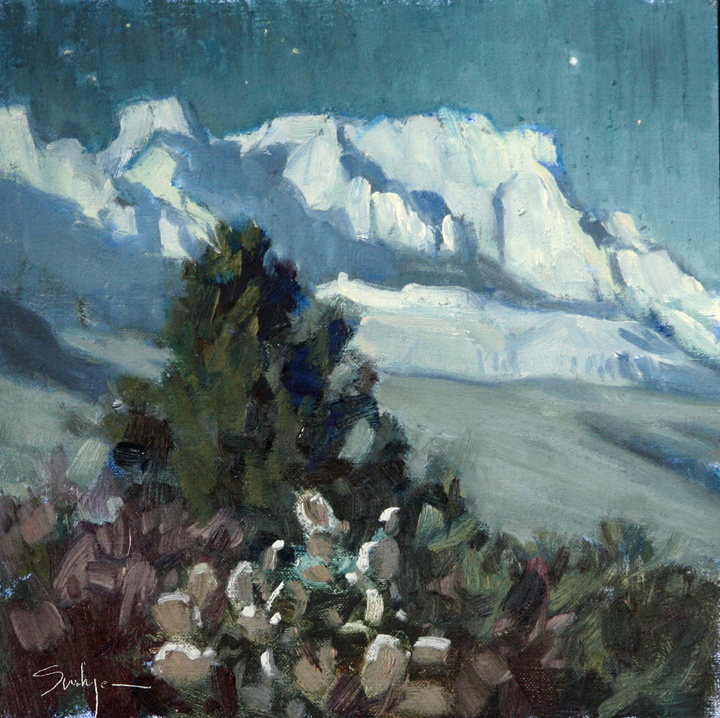 Moonstruck Mesas, 8×8, oil on linen
We will be working at both exotic inspirational locations in and around Boca as well as the amazing Casa open air studio. The first few days of the workshop will be given to discussion and demonstrations in the morning, then exercises in the afternoon, with individual help and critiques. In the latter part of the workshop, we will design and work on one or two pieces using these concepts and have a final class critique. We will not pressure ourselves to create masterpieces in this workshop, so come prepared to leave your fears at the door, stretch your mind, and have some big FUN!!!!.
REGISTER NOW TO RESERVE YOUR PLACE!
BOOK YOUR FLIGHT EARLY
You can reserve your place with a $500. credit card deposit, (no surcharge) or pay in full (surcharge applies)
Register and pay in full by October 31 for a $100. discount!
Go to the Payment Page >>
Workshop Suggested Supply list:
You will want to bring your normal painting set up and supplies, including plein air type pochade box and tripod, and palette, or whatever you are comfortable using, but should be easily portable for travel.
Brushes (a variety of smaller up to 1"(#2-8 ), flats or filberts, palette knife. Keep in mind we are working rather small for exercises.
Paint ….at least a warm and a cool version of the primaries (ex. Lemon yellow, cad yellow light, hansa yellow or the like for the cool yellow
Cad yellow med or dark for the warm yellow
Cad red light for

 

a warm red
Alizarin crimson, cad red or similar for the cool red
Ultramarine blue
Cerrulean, cobalt, Prussian blue. Stay away from the thalos if you can.
Titanium white, black if you normally use it.
and whatever other colors you normally use that you can pare down for travel. Color in and of itself is not generally important in this workshop. I also like a warm and cool green like sap and viridian. I find burnt sienna, yellow ocher helpful but not necessary.
Mexican "mineral spirits" may be available at the casa , (these are pretty nasty), but water based oils might be more helpful, (some Cobra watermixables available at the Casa for you to try, contact Bob with questions). Walnut oil for cleaning brushes, and whatever mediums you normally use, etc.
Some cotton rags (old T-shirts work great for this.)
A small sketchbook for doing thumbnail sketches in pencil.
A pad of canvas paper(oil/acrylic painters) or appropriate paper for water media and pastel artists, for doing exercises in paint (any size from 6×8 to 9×12 are best for these quick studies and easier to travel with.) Mulitmedia art boards work well too. I have even cut up and gessoed mat board for exercises or small paintings.
Notebook for taking notes-it's a lot of info. You will want to go back and refer to later.
Reference Photos to work from in the studio in the event of rain, (highly unlikely).
Sturdy footware
Painting backpack for your supplies
Wet paint carriers for the 8×10/9×12 studies or larger if you want to work larger.
Keep in mind that in this workshop we are mainly doing EXERCISES that will enhance your understanding of how to build a strong structure for your future plein air and studio paintings, we are NOT making masterpieces here.
Recommended reading Carlson's Guide to Landscape Painting by John F Carlson
Recommended videos: Quang Ho's "Nuts and Bolts", "Painting the figure in an Interior" (local tone approach), "Painting the Still Life" (light and shadow approach)