Robert Masla, December 11 – 18, 2021
Painting Your Intention –
with Casa Founder
Robert Masla
Very limited enrollment – 4 rooms – 4 persons or couples, (or combination)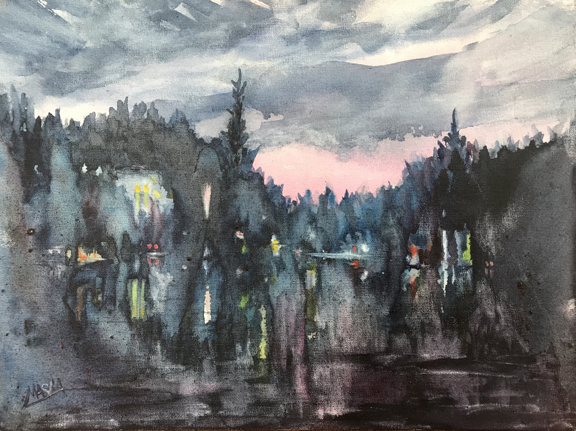 Nocturne at Saran Lake,
Rembrandt watercolor on 9″x12″ Fredrix watercolor canvas
Join me, Artist, Instructor, Casa Founder/Director, Robert Masla for a very exclusive workshop where the focus is on you. Understanding, discovering, exploring your artistic intention and how to achieve it. Take your work to the next level. What is between you and achieving your goals as an artist. We will explore together intention and how it effects every artistic choice from materials, subject, composition, values, execution of various techniques, etc. A week of deep exploration -And Fun! Painting in a very unique and supportive environment, I will offer you insights from over 40 years of professional painting and teaching experience.
Reserve Your Space Now!
Robert Masla, "Painting from Under an Umbrella, (plein air at the VIC, Adirondacks)",
Cobra oil on 9" x 12" Fredrix Canvas on board