March 20 – 27 , 2021 Robert Masla
"Draw Like Crazy! – Paint Like Crazy! – Draw Like A Painter!" with Casa co-Founder, Artist Robert Masla
This workshop takes place the same week as Rob Okuns' Mens' writing workshop and therefore has limited enrollment
---
"Draw Like Crazy! Paint Like Crazy! – Draw Like A Painter!"
With Casa Founder, Robert Masla, March 20 – 27, 2021
---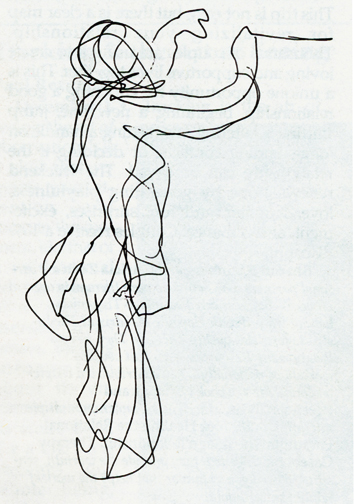 Masla, Pen Gesture Drawing of conductor Sieji Ozawa
"Drawing is the basis of art. A bad painter cannot draw. But one who draws well can always paint." – Arshile Gorky

---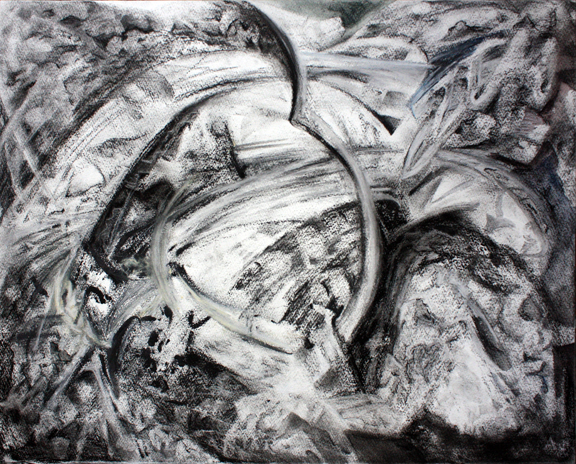 Masla, "Listening to the Mark", charcoal, chalk, graphite, graphite wash on 18″ x 24″ 140lb Fariano paper
Masla, sketch of lion at the P.V. Botanical Gardens, graphite wash on watercolor paper

Any great painter will tell you one of the best ways to improve your painting, aside from paint, paint, paint, is to draw. Drawing teaches you how to see and how to think visually, and how to paint! But how many artists take the time to draw? Whether you haven't drawn since you where a child or you are a professional painter – this fast moving fun workshop will have you drawing and painting like crazy – and learning as you play! Join artist Robert Masla as he facilitates this week long studio and plein air experience where you will be introduced to his unique and award wining teaching style.
---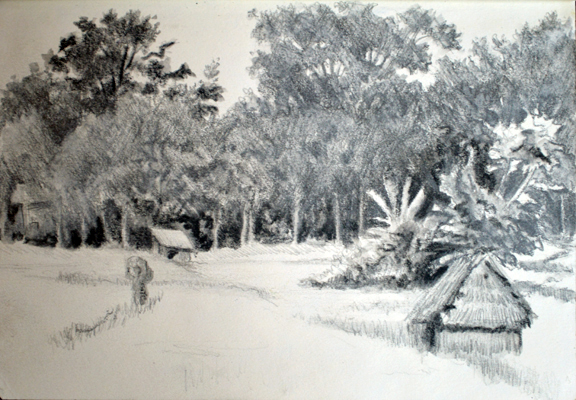 Masla, Rice Patty, Ubud, Bali, graphite wash pencil, sketchbook, 5″x7″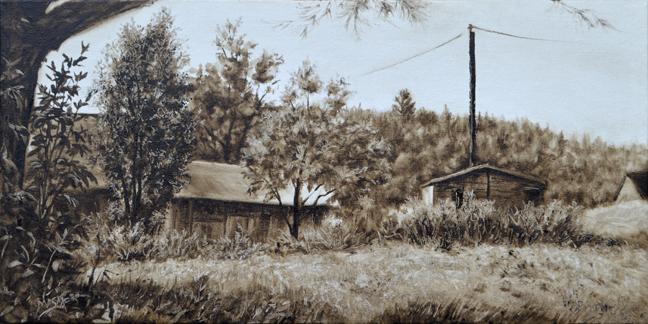 Masla, "Morning Walk", plein air oil on 8″ x 16″ Fredrix all media canvas paint board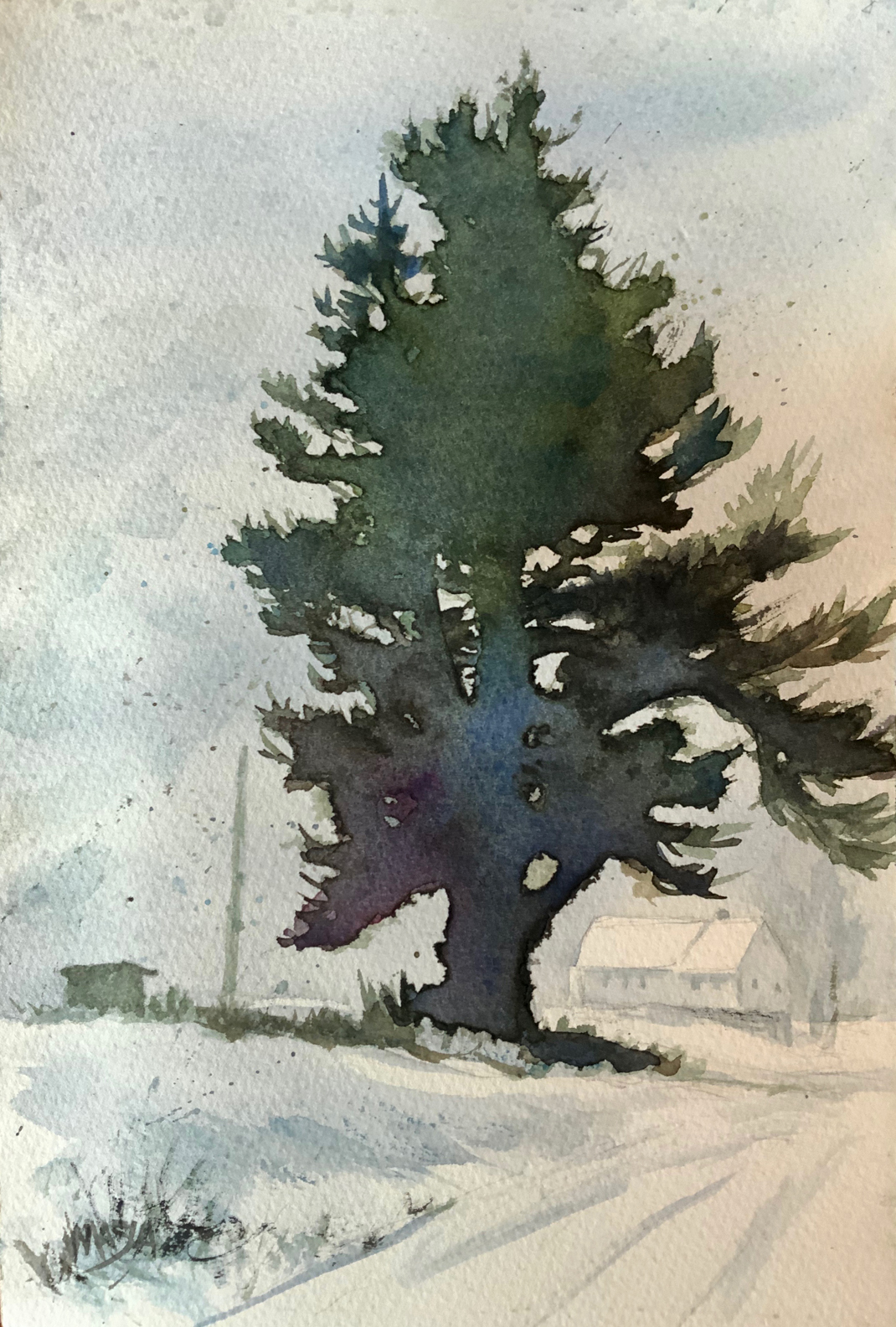 Masla, Standing Firm, watercolor on 11″x 8″ cold press paper
In this workshop you will be encouraged to push the edges of your creative expression and discover new techniques and methods for mark making, rendering and confronting the "blank canvas". In an atmosphere where both beginners and advanced artists alike will learn and feel themselves stretch, Masla will lead you in the exploration of materials and techniques that will help you to uncover your unique creative signature as you learn to draw as a painter.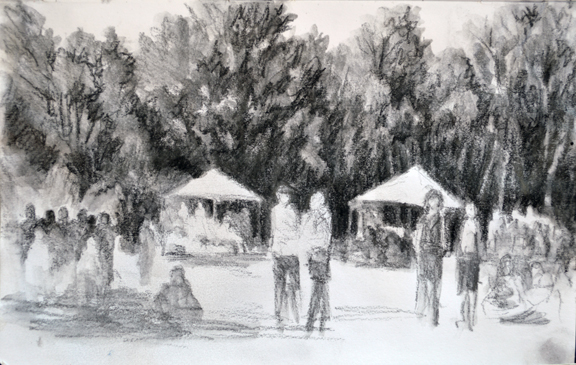 Masla, Rhythm of 2s, graphite and wash, sketchbook
Each day there will be demonstrations and exercises of different techniques and methods of drawing, encompassing both expressive mark making as well as the tools for rendering through observation. We will also engage these skills in applied painting exercises.Throughout this playful experiential process, (perhaps without even realizing it), you will be absorbing important information about painting through drawing – composition and design, value, shape, form, texture, edges, atmospheric and linear perspective -all valuable knowledge of drawing for the painter. Most importantly, you will gain useful tools and insight into seeing and thinking visually.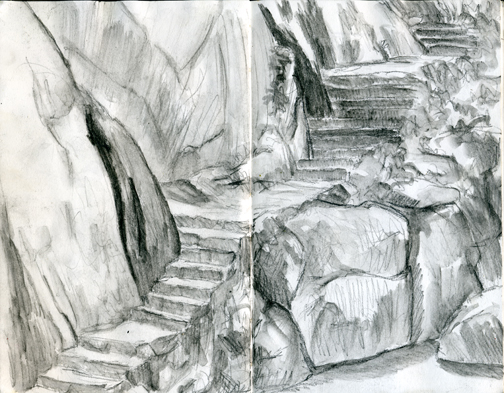 "The Stairs at Colomitos", graphite sketch and wash in sketchbook during picnic on the beach.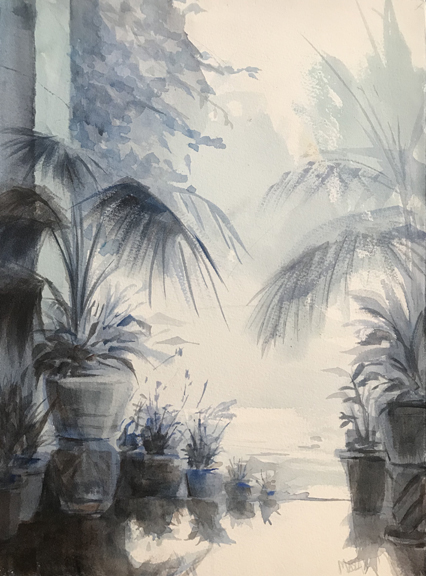 Masla, "Arrangement in Warm and Cool Grays, (demo at the Puerto Vallarta Botanical Gardens)", watercolor on 15″ x 11″ Fabriano cold press
We will also be doing on location sketching and drawing and painting at inspirational places. We will visit the award winning Puerto Vallarta Botanical Gardens where we will have the bottom of their Hacienda Restaurant to use as a temporary studio, after sketching in the morning they will prepare us a wonderful lunch and then more art play in the afternoon, (perhaps after a quick siesta on one of their lounge chairs overlooking the mountains). We will also spend a day at the nearby charming mountain town of El Tuito, sketching at the Zocalo and the cobblestone streets and charming buildings, with a simple demo for understanding linear perspective, and another great lunch in the courtyard garden at Marios Patio, a great hacienda style restaurant right on the square. Another day we will take a boat trip to explore the gorgeous coastline, (witnessing a wonderful display and explanation of atmospheric perspective),  and onto a wonderful beach for picnic and sketching, (perhaps a demo on the anatomy of waves or swimming or snorkeling anyone?). At each location Bob will give a different demo of ways for approaching drawing, sketching & painting on location. You will also have valuable one on one time with the instructor to help you with your grasp of the materials, techniques and concepts and how to go about achieving your individual intentions.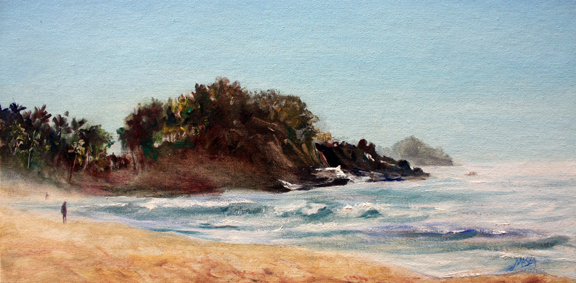 Masla, Salt in the Air, (plein air San Pancho),
Cobra water mixable oils on 8″ x 16″ Fredrix all media canvas paint board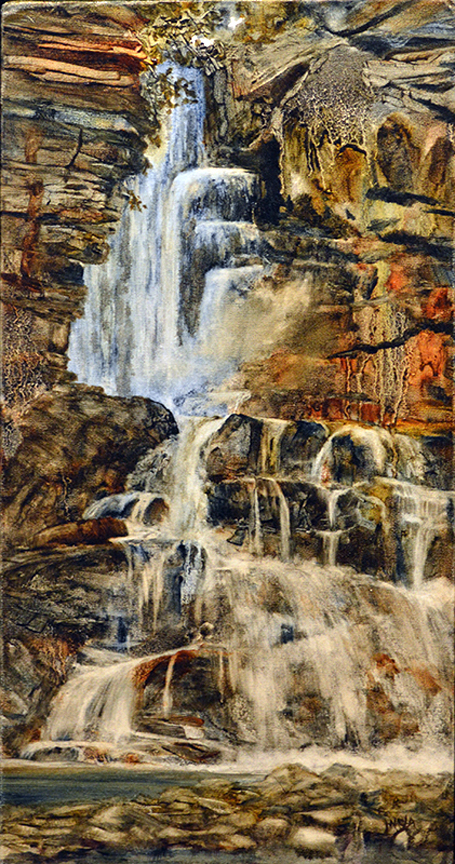 Masla, Cascade, (plein air at High Falls, Adirondacks),
Rembrandt oils on 16″ x 8″ Fredrix all media canvas paint board
Come and celebrate your uniqueness and immerse yourself in the creative process. Investigate the intention of art making in new ways, learning to both render what you see and infusing feeling and emotion in your work while you uncover your creative signature and draw like crazy – paint like crazy and draw as a painter!
Join Masla, March 20 – 27, 2021 for
"Draw Like Crazy! Paint Like Crazy! – Draw Like A Painter!"
---
REGISTER NOW TO RESERVE YOUR PLACE!
BOOK YOUR FLIGHT EARLY
You can reserve your place with a $500. credit card deposit, (no surcharge) or pay in full (surcharge applies)
Register in full by October 31 for a $100. discount!
Go to the Payment Page >>