February 22 – 29, 2020, Tony van Hasselt
"Tropical Escapaint -Creating an Artists Travel Sketchbook"
February 22 – 29, 2020.
Renowned Master Plein Air Watercolor Artist and Veteran Workshop Instructor Tony van Hasselt, A.W.S. – returns to the Casa for his week retreat of watercolor adventure in Mexico!
A Unique  Workshop with Master Plein Air Watercolor Painter Tony van Hasselt
Join Tony when he returns to the Casa for his watercolor adventure
– February 22 – 29, 2020 
Each one of Tony's workshops at the Casa are even more wonderful an experience than the last, with more unique opportunities to paint with this watercolor master! We eagerly anticipate an even greater experience upon his return in February as he had taken a hiatus. He will continue his focus on the principles of the Building Blocks of Painting and techniques for creating an "artists travel sketchbook". We have honed in on some more great spots where we can set up our easels for full day plein air painting experiences.
2 pages from Tonys' Travel Sketchbook, painted on location 
during the boat trip/picnic at Playa Colomitos
This is a workshop not to be missed for the adventurous and energetic artist! – We will cover a lot of ground – or should we say paper – with a lot of painting, guided by Tony's expert instruction, demo's and critiques. We will be inspired by incredible scenery and dine on delicious cuisine. We have wonderful painting excursions planned, traversing the beaches, jungle paths and cobble stone streets of the Boca, painting at the nearby beautiful Botanical Gardens and visiting a picturesque sleepy little Ranchero Mt. town. We are sure to have a rich artistic and cultural experience among new friends.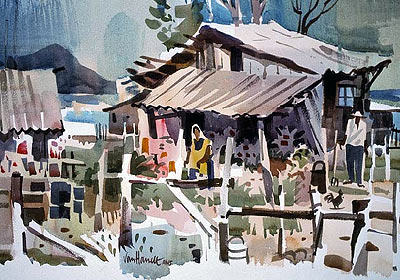 Tony van Hasselt – "Fishermans Home", watercolor on paper painted in plein air
"Boca artist friends:

After spending two more pleasant days in Puerto Villarta shopping and site seeing, I landed in Boise. Jack, my dog, was very happy to see me. It was good to be home again.

I will always remember the wonderful people I met at the workshop. Tony is a masterful teacher who challenged and inspired each of us. I am no longer afraid of the dark values! Too bad we couldn't meet Monica. Together Bob and Monica are making their artisan retreat experience come true. One quickly learns to relax and while enjoying the adventure, eat great food. Bob, keep me on your email list. I want to come back! Mary Ann, thank you for the Watercolor magazine. I read every page during my journey home. Look for something in the mail. Thanks everyone for sending pictures of our trip. I'm flooded with happy memories of our time together. Your friendships have enriched my life. With much love and affection to all, – Margaret"
Imagine the best art workshop vacation of your life: Painting in a charming fishing village and other exotic locals along the gorgeous Pacific coast of Mexico , with inspirational workshop leader Tony van Hasselt! Immerse yourself in the joys of authentic Mexican village life at one of the most beautiful and arts oriented locales in Latin America, Casa de los Artistas, in the serene village of Boca de Tomatlan, 10 miles south of Puerto Vallarta.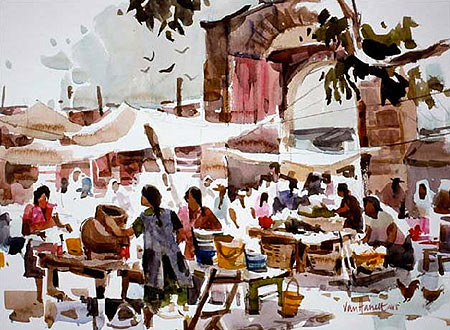 Tony van Hasselt – "Market Days", watercolor on paper painted in plein air
Tony demos on the beach in front of the Casa the importance of preparing to succeed through doing a tonal value thumbnail sketch.
In this video, shot on the beach in front of Casa de los Artistas with the sounds of the surf and village surrounding him, master plein air watercolor painter, Tony van Hasselt demonstrates a simple watercolor value sketch. At the beginning of his plein air sessions Tony often quotes Benjamin Franklin, "Failing to prepare, is preparing to fail". He maps his values and composition in 5 or 6 minutes on an inexpensive piece of paper in proportion to the watercolor paper he will create the finished color painting on. Throughout the workshop week, Tony shares with participants the "Building Blocks of Painting", that apply to all media, not just watercolor – but it "all begins with Tonality, get the values down."

Tony demos in the Casa studio the importance of shapes in indicating the essence of a subject.
There will be demonstrations and organized lessons every day as well as individual and group critiques during this all inclusive week long workshop. Tony shares his unique techniques and years of painting experience in his warm and personal teaching style. The result is a wealth of information presented to the participants along with practical time for each artist to paint under Tony's tutelage. There will be time spent in the Casa's magnificent open air studio with sweeping views of the ocean, river and quaint village of Boca de Tomatlan, as well as time spent painting on location in plein air. Tony will provide a daily painting demonstration with detailed explanations of all the "hows" and "whys" followed by individual assistance for each student daily.
A typical day at Tony van Hasselts Tropical Escapaint workshop at Casa de los Artistas begins after a wonderful breakfast with a morning demo in the studio of Tony's Building Blocks of Painting and then participating artists practice them in plein air painting at different locations.  Later, participants meet back in the Casa studio where Tony makes suggestions for their paintings. Tony places a piece of acetate over the painting of a student that wants feedback, and with out touching the work directly, Tony paints over it on the acetate, emphasizing the principles he teaches with the Building Blocks of Painting. Participants can then photograph the suggestions and apply them later if they so desire.

After a day out painting at exotic locations, Tony and participants return to the Casa's magnificent open air studio. In the studio, Tony talks on various painting principles, demos techniques and offers constructive feedback on participants work through suggested cropping and by painting on wet media acetate placed over the participants painting. These videos were recorded during last years workshop at the Casa after painting on the beach in front of the Casa and various locations .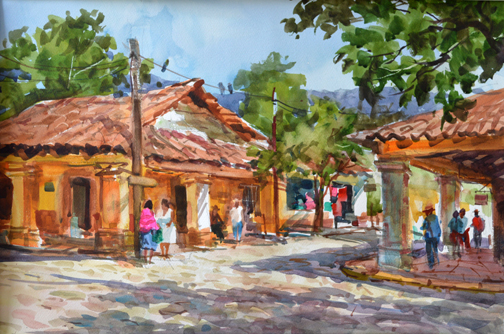 Tony van Hasselt, Painting demo in El Tuito, watercolor on paper painted in plein air
"We enjoyed the Casa Expereince immensely. Liked being in a place among the local citizens, watching their activities, taking the boats out, being surrounded by nature and hearing the surf. It felt authentic, (unlike a resort). Loved the boat ride, beach picnic and snorkeling. Hosts organized the activities for the pleasure and comfort of the visiting artists. There was beautiful weather, delicious food, unlimited inspirational scenery to paint and Tony is great!" – Ed and Barbara F.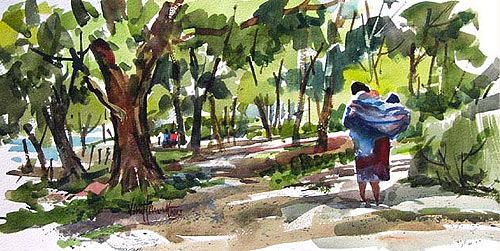 Tony van Hasselt – "Heading Home", watercolor on paper painted in plein air
Tony's ability to graphically explain problems and solutions as they arise durring a demonstration, combined with his energetic and enthusiastic teaching style, have made him a highly popular instructor, appreciated for his empathy with student struggles. In his workshops van Hasselt concentrates on logical outdoor painting methods and the art of picture- making.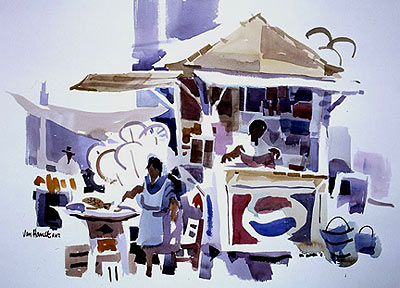 Tony van Hasselt – "Lunch Time", watercolor on paper painted in plein air
"Tony has the ability to present different and creative approaches to any given subject.
After exposure to some basic advice, students are free to explore their own style and direction. Tony considers himself a coach rather than an instructor. "There are many ways to approach a subject and the joy is in exploring them."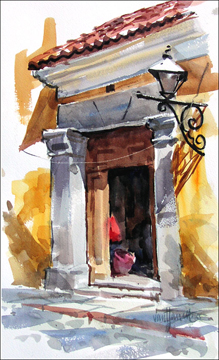 Tony van Hasselt – "Antigua Portal", watercolor on paper painted in plein air
Additional activities available at the Casa:
When you're not painting: during the siesta and Friday, your time is your own. Your hosts will offer you four wonderful activities during the week, which are included in the cost of your trip (see below for more details). Or you can relax on the beautiful beach, photograph the charming village, take a siesta, visit the zoo, go hiking, walking, sea kayaking, zip lining, shopping in the Mercado, or exploring the galleries and cafes. You can enjoy peaceful alone time, or hang out with other guests. Information & Registration: (413) 625-8382
Your All-Inclusive Cost Includes this and more:
• For Participants:
6 Workshop days – after breakfast to lunch, approx. 3 hrs. painting, then after lunch and siesta, 3 more hours of painting, and some evenings, (Sunday thru Friday). Friday is free time -spend it finishing some painting, explore, relax – and then a late afternoon/evening "critique" and "fiesta" celebrating participants work. More than 30 hours of Workshop time, (schedule is flexible to accommodate excursions)
• For Everyone:
7 nights accommodation (single or double occupancy -No extra charge for a single!). 7 breakfasts, 6 lunches and 6 dinners at oceanside restaurants/all drinks included. Painting at the zocalo and lunch on the patio of a lovely restaraunt in the charming mountain town of El Tuito. Puerto Vallarta excursion for gallery walking tour, shopping & city life, Boat Trip to explore the gorgeous coastline with opportunity to see whales, dolphins, giant mantas / optional snorkeling at Los Arcos National Coral Reef Park, then on to a fabulous picnic at an exotic secluded beach, (bring your camera and sketch book!). A day at the Puerto Vallarta Botanical Gardens with a wonderful catered lunch at their lush "Hacienda" restaraunt. Round trip ground transportation from P.V. airport to Casa.
Workshop fee does not include round trip airfare from your city to Puerta Vallarta International Airport, expenses for personal items and gratuities for the Casa cooks and house care persons. To see specifics go to: Whats Included
"I loved the Casa Experience. Lovely and exquisite environment and sights! Lots to paint in plein air. Tony's energy for teaching stands out in my mind along with his wit, charm and insight into improving my painting! -This is quality instruction in an authentic and colorful location with gracious and articulate hosts and staff. Awesome! (how can you make any money with such lavish dinners-!), So appreciated. One big dinner would have been fine." – S. M., Seattle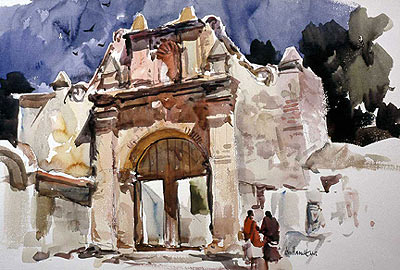 Tony van Hasselt – "Oaxaca Gate", watercolor on paper painted in plein air
---
Tony van Hasselt – Plein Air Painting and Creating a Travel Sketchbook
February 22 – 29, 2020
SEMINAR IS LIMITED ! REGISTER NOW TO RESERVE YOUR PLACE!
BOOK YOUR FLIGHT EARLY
You can reserve your place with a $500. credit card deposit, (no surcharge) or pay in full (surcharge applies)